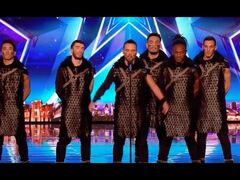 Allin Dance Crew were a dance crew based in Paris, France, who auditioned for Series 11 of Britain's Got Talent. They were from several places around the world, and met in dance life. They were aged between twenty three and twenty four.
The group began their audition dancing to the theme tune from Game Of Thrones before changing the music to fast paced hip-hop music. They then had one member quickly run and jump over three other members heads and punch the floor of the stage. They then began dabbing before later holding their arms outwards to the sides they were facing. They advanced through to the next round, however they did not reach the Semi-Finals.
After BGT
They later went on to compete in France's Got Talent in the same year as 'All In Dance Crew', wherein they received a Golden Buzzer from Judge Kamel Ouali during the auditions and advanced directly onto the Final, before concluding the competition in fourth place overall.[1]