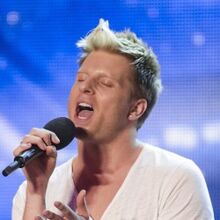 Andrew Derbyshire is a singer who reached the semi-finals of Britain's Got Talent in Series 8. He had previously performed on Pop Idol, and surprised the Judges with his new, over exaggerated personality.
In his audition, he sang 'Somebody Else's Guy' by Jocelyn Brown. He advanced onto the following round and later reached the Semi-Finals.
In the semi-finals, he performed 'Listen' by Beyonce in front of an orange background as several spotlights shone around the stage as he performed. Midway through his performance his face was briefly displayed on the electronic screen behind him as he performed, before the spotlights shone upwards towards the ceiling, before they then shone upon him, before spinning around. These spotlights later surrounded him for a brief period of time before they then began to spin around the stage once again, however surrounded him once more as he concluded his performance. He was eliminated at the end of his semi-final by Public Vote in seventh place.