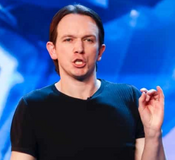 Andrew Lancaster is an impressionist who reached the semi-finals of Britain's Got Talent in Series 12. Before his audition, he revealed that his final goal was 'to have [his] own sketch show'.
He began his audition with an impression of Donald Trump, explaining how he wanted to change the UK; to have children be educated by Brian Cox, the NHS run by Nigel Farage, and housing be managed by Russell Brand, doing impressions of all three. However the Farage impression was met with a chorus of boos by the audienceAfter his audition, Simon commented 'It's always great on these shows when we discover somebody like you', with Alesha adding 'there's endless possibilities with you'.
His Semi-Final performance was very similar to his audition, resulting in Simon losing his enthusiasm and criticising the performance for its lack of originality. He was eliminated via public vote at the end of his Semi-Final, when the impressions continued to show similarities to earlier performances.