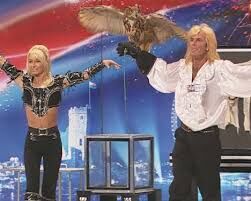 Animalgique were an animal magic duo who auditioned for Series 2 of Britain's Got Talent. The duo consisted of married couple Steve and Claire Lucock. The pair hailed from Blyth which is located in Northumberland. They worked as Club Entertainers and were aged thirty five and forty one. The duo had fifty one animals.
To begin their performance Steve did a voice over for taking the pair into "The world of Animalgique!" They then performed Magic to I Believe by DJ BoBo, by placing a baby owl into a box, before an adult owl emerged from within the box. Their audition ended with their act name of "Animalgique" being echoed. Simon described the act as "Okay" however believed it were not the level of "Siegfried & Roy and a White Tiger" however Steve stated that, that were what the duo wanted. They proceeded to advance onwards to the following round after Amanda had changed her 'no' verdict to a yes, thus giving them a second chance to improve their act if they were to make the semi finals, however this ultimately did not occur.
After BGT
Steve & Claire later took on eighteen more animals, thus making the total of animals that the duo cared for 168. The above was due to receiving calls and emails from several members of the public who were pet owners offering them up to the duo. By October 2015 caring for these animals made Steve become an unemployed & penniless divorcee, as this led him & Claire to seek a divorce. Atop of this Steve also turned his back on magic, however stated that he would be perhaps tempted to go on BGT once again at some point in the future, however under the correct sort of conditions.