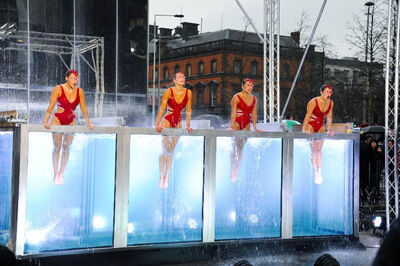 Aquabatique are a swimming Display Team who made it to the Final of Britain's Got Talent in Series 6. They are all former international synchronised swimmers for Team GB in the Olympics, however one member was deselected from the 2012 Olympics and saw BGT as 'almost like a second chance for [her]'. They were aged between 21 & 28 at the time of their audition.
In their audition, the Judges had to go outside to watch them perform in an outside swimming pool. They performed to a number of songs, including 'Chariots Of Fire', a brief snippet of 'Gold', and 'Harder, Better, Faster, Stronger', as they began their performance with each member laying down atop their individual water tank, before then standing up atop of them, before submerging themselves within the water tanks. They began their performance by performing in four individual tanks, before briefly sharing two tanks. They then went on to perform in one tank each, before then swimming upwards and holding onto the side of each tank, before flipping back into the water. One member then jumped out of the tank with her fist in the air, before two members stood upon the side of their tanks, before then jumping back into them. They briefly performed individual tricks before two members span around by using their feet, before they then made what seemed to be a bridge in this way. They then went on to swim to the top of the tanks, before then slightly submerging themselves once more. David described their performance of synchronised swimming as 'one of the hardest things to do, as you need such strength to do that, but you also need real grace and beauty', with Alesha adding her belief that the group were 'so clever', 'strong' & 'beautiful'. They advanced onto the following round with three yeses as Amanda was not present for their audition, and later advanced onto the Semi-Finals.
In the Semi-Finals they performed an underwater ballet routine to a medley of James Bond theme tunes, which began with one member jumping into a water tank, whilst another jumped in the air and landed in the water tank beside hers. They then performed several underwater flips, before a spotlight slowly shined upon each of them individually. Each member then jumped out of their tank and landed in a differing one, before performing in the tank that they were in. The group then split into two groups of two who span around underwater in the central tanks, before one member jumped out of her tank and back into it. The group then began to perform several segments of their performance in synchrony whilst within the water tanks, before they split into two groups of two who performed brief spins alongside one another once again, performed one member held onto the side of the top of her water tank, as another jumped between two water tanks. Their performance concluded with each member still in their groups of two holding onto the side of their water tank whilst now above the water. They advanced onto the Judges Vote and advanced onto the Final after having gained three votes from Simon, Amanda, & David, whereas Alesha had voted for their opposition Billy George.
In the Final they performed an underwater ballet routine to a medley of music, after having jumped off of the side of ladders that were located nearby water tanks either side of the stage. Midway through their performance they used but two of the water tanks with the two groups of two members spinning each other around underwater, before they later returned to their own separate water tanks. The performance concluded with one of the members who were performing the middle tank to the right diving out of her water tank, and into the one beside it to the left, as the member from this tank had moved to the middle tank on the right alongside another member in the meantime. They concluded the series in tenth place.
Community content is available under
CC-BY-SA
unless otherwise noted.