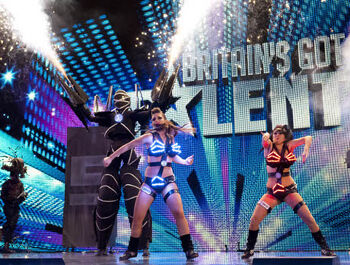 Area 51 are a dance group who made it to the semi finals of Britain's Got Talent in Series 6. The creators of the robots were aged between 23 & 44 at the time of their audition. The concept of their act was that they made robots and made them dance around.
In their briefly televised audition, the robots danced to 'We Found Love' by Calvin Harris featuring Rihanna in unison, with some robots emitting smoke or steam into the air through their arms. Simon described their performance as both 'inventive' & 'different'. They proceeded through to the following round and later reached the Semi-Finals. Once the group left the stage Simon turned to Alesha and joked 'did you think when you signed up for this Alesha, this is going to be anything like this?'.
In the semi-finals, they danced to 'Invaders Must Die' by The Prodigy. Throughout the majority of their performance they danced in unison, before one robot slowly walked from one side of the stage to its centre in order to dance alongside another robot. Two giant robots that seemed to be modelled after the Cybermen from Doctor Who, however possessed the wings of Weeping Angels also from Doctor Who, appeared upon the stage and briefly began to dance alongside the other robots, before the other robots then danced alone. One robot then emitted smoke or steam from its arms and legs and began to levitate, whilst several other robots emitted this upon the stage beneath the robot that was levitating. They were eliminated by Public Vote at their Semi-Finals end in eighth place.
Community content is available under
CC-BY-SA
unless otherwise noted.