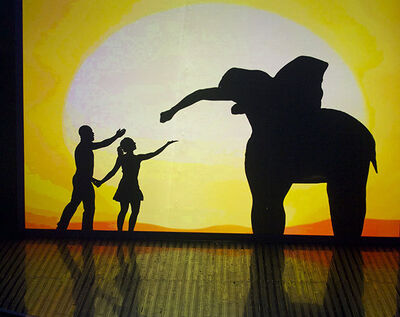 Attraction are a Hungarian shadow theatre group, who won Series 7 of Britain's Got Talent. There are 12 members of Attraction, however only 8 performed on Britain's Got Talent. These eight members included Katalin Torda, Alexandra Tóth, Norbert Fehér, Andrea Lakatos, Zoltán Szűcs, Csaba Szentinek, Flóra Szabados, & Janka Kántor.
In their audition, they performed a story of a couple who meet, marry and have a daughter. The father goes to war and dies tragically. The piece ended with the mother and daughter visiting his grave. The performance was set to Emeli Sandé's "Read All About It Part III". Many members of the audience and the female judges were moved to tears.
In their Semi-Final, they depicted the story of a man growing up with his mother by his side. However on a trip with his lover, he gets the news that his mother is sick. His mother then dies, but he is cheered up when his lover reveals that she is pregnant. Their performance was based on Zoltán's actual life story and set to Leona Lewis' "Footprints in the Sand". They won their Semi-Final, and therefore advanced directly onto the Final.
In their Final performance they performed a patriotic tribute to Britain. They paid homage to the Olympics being held the year before in London, and also formed the shape of British icons like Winston Churchill, the Queen and a lion. They won the competition over huge favourite Jack Carroll, becoming the first, and currently only foreign act to win Britain's Got Talent.
Before BGT
In 2012 they performed as guests during several events of the Olympic Games.
After BGT
They returned to BGT a year later as guest performers during the final Semi-Final, and performed alongside Richard and Adam. They later went on to compete on Germany's Got Talent, ultimately placing 7th.
They performed on In The Mirage, and CCTV New Year's Gala. They later made guest appearances on Ant & Dec's Saturday Night Takeaway, Best of Britain's Got Talent, and as part of a TV Advertising campaign for Swinton Insurance.
In 2019, they competed upon AGT: The Champions, where they where eliminated before the finals, yet came second in the live studio audience super fan vote.
In Winter 2020 the group performed a Christmas themed shadow puppetry routine whilst Beau Dermott, Souparnika Nair, Fayth Ifil, Asanda, & Sarah Ikumu backed the performance with a rendition of 'Somewhere Only We Know' by Lily Allen, as a part of the Britain's Got Talent Christmas Spectacular. They concluded their performance by creating the words 'Merry Xmas', alongside a hand on the left side of the screen and a hand holding a gift on the right side of the screen and the words 'Show someone they're loved this Christmas' upon the middle of the screen.
In 2022, Attraction Juniors participated in the show. They are a junior version of Attraction, who were formed by Zoltan Zsuc's and lead by his son Martin.