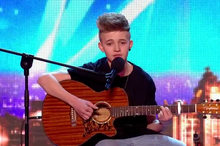 Bailey McConnell was a singer who made it to the Semi-Finals of Britain's Got Talent in Series 8. He hails from Milton Keynes. He was aged fourteen at the time of his audition.
In his audition, he sang a song he had written himself, about a close friend who turned on him entitled 'Dying Hole'. Amanda described the performance as 'incredible', before later going on to add that she knew the lyrics meant 'so much to him' and it must have been 'so awful for [him] to learn such a tough lesson at such a young age', with David adding that the 'best ever songwriters go through something really tough and they turn it into something beautiful and we can all unite as we've all had some experience like that', before joking 'for example the person you love is having a baby with someone else' due to Simon's wife Lauren Silverman being pregnant with the pairs son Eric Cowell at that time.
In the Semi-Finals, he sang another of his own songs, this time about his parents. Simon commented the fact that he 'didn't like the song, but [he] really liked [him]', before adding his belief that he had 'potential to do really well', however if he was going to write his own material it had to be as good as 'Ed Sheeran, or somebody like that, or Taylor Swift' as they had to be 'killer, killer songs', however believed that perhaps the show were the 'first step for what [he wanted] to achieve'. Alesha added that 'songwriting for [him was] what it were all about' as he 'knew who [he was] already as an artist' at his age of fourteen. Following his performance he placed second or third in the Public Vote, therefore making him eligible for the Judges Vote, however he was eliminated during the Judges Vote as he achieved but one vote from Simon, whereas Amanda, Alesha, & David all voted for his opposition Paddy and Nico to advance onto the Final, meaning McConnell was therefore eliminated.
After BGT
In October 2014 he met Ed Sheeran whilst at Birmingham's Genting Arena after attending a gig headlined by Sheeran. In September 2015 McConnell opened up about his past battles with depression which he revealed were so bad that he wished he were dead, became an ambassador of YoungMinds, and released a single entitled 'Crystalise'. In the same month he revealed that he and the friend he wrote 'Dying Hole' about had since made-up and became friends again and stated that the friend has always known the song to have been about them. On August 21st 2015 he performed at Birmingham's famous O2 Arena. In the same year he also wrote a single entitled 'The Power Within' which McConnell explained was about how you could do anything if you put your mind to it and had the message of not letting your life get ruined by doing so, and he also planned to release his EP entitled 'Crystalise within the same year.[1] In 2019 he went on tour alongside kneworlduk also known as KNE, Gabz, & MerseyGirls.[2]