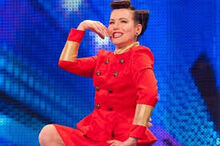 Beatrix von Bourbon is a professional burlesque dancer who made the semi finals of Series 6 of Britain's Got Talent. She was aged twenty seven at the time of her audition.
She began her act by a briefcase before knocking it over. She then pulled out two golden buttons from the briefcase. She then held them before taking off her jacket to Feeling Good originally by Nina Simone. She then began to dance around the stage to the song.
To begin her semi finals performance she walked down a large staircase towards the back of the stage. She then danced around the stage to 'Fever' by Peggy Lee. She then took of her scarf and jacket before walking over to a piano and dancing around the stage with large feathers. She then concluded her act semi naked walking midway up the stairs, whilst facing away from the cameras as she gave two people beside the stairs the two large feathers she previously held. She was eliminated at the end of her Semi-Final by Public Vote in eighth place.
Controversy
On 23rd April 2012, Ofcom launched an investigation into the programme after receiving complaints from viewers regarding Beatrix's audition. The aforementioned complaints focused on the nature of her performance and its suitability for a family audience and being aired before the 9pm watershed. The investigation saw itself last for two months, concluding on 23rd July 2012 with the regulator ruling that ITV had not breached its broadcasting codes on protecting children from unsuitable material. They also stated that ITV's measures to censor the footage of the audition had been within acceptable parameters, thus not breaching the shows broadcasting codes of protecting children from unsuitable material, given that the show is slated as a family show.
Community content is available under
CC-BY-SA
unless otherwise noted.