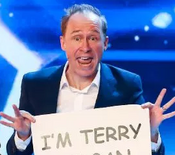 Ben Langley is a comedian who auditioned for Series 12 of Britain's Got Talent. Before his audition, he stated that he had previously been a street performer, however began to work in holiday parks once he had children.
He began his audition by stating that the opening melody to 'The Lion King' sounded similar to someone saying 'Arsene Wenger'. He then followed this up with a number of different misheard lyrics, playing the song and holding up his take on the lyrics. Examples included 'Obama's elf' to 'All By Myself', "Tell me why" to "Tummy Why" and 'I'm Terry Wogan' to 'I'm Every Woman'. Alesha stated 'we could watch you for ever and ever', with Simon adding 'Your energy was amazing - it was brilliant, good for you'. Alesha Voted yes by remarking "Thanks for ruining some of our favorite songs". He advanced through to the next round, however did not reach the Semi-Finals.
Controversy
Langley was later accused of stealing his routine from comedian Peter Kay, and stealing his comedy style from Lee Evans. Langley however later defended his performance stating that he'd been 'performing [his] misheard lyrics routine for 10 years, so before Peter Kay did his, I regularly update mine with new lyrics I have misheard,'before then adding his love for Peter Kay as a comedian and his beliefs that Kay's routine were 'absolutely fantastic', before concluding with his belief that Kay were an 'outstanding comedian'.