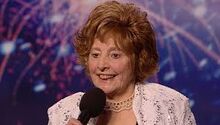 Brenda Isaacs is a singer who auditioned for Series 2 and Series 3 of Britain's Got Talent. She was aged seventy four at the time of her audition, and she worked as a dinner lady. She had sang in pubs & clubs for years, and winning the show would have been a dream come true for her. She would compare herself to Britney Spears in the charts.
Series 2
Edit
In Series 2, the homemade CD created by her partner Roy. In her audition she had planned to sing a rendition of 'Somewhere Over The Rainbow' by Judy Garland. However the track which she was singing from played the wrong track, and she could therefore not deliver the correct performance, before she stated it were track number three on the CD. She was buzzed by both Amanda & Simon. Simon asked her what the backing track to her performance were, to which Isaacs replied 'Unchained Melody', Piers however added that he were 'oddly starting to get into [her] performance', with Amanda stating Isaacs performance began to grow on her in 'a very slow way'. She was sent home during the audition stage of the competition.
Series 3
Edit
In Series 3, she sang a rendition of 'The Wedding' by Julie Rogers. All three judges buzzed, thus buzzing her off. Simon commented that 'nobody would pay to hear [her] sing, however when he asked the audience who would buy her record, several audience members stated that they would. Backstage Ant & Dec joked 'I mean the tracklist wouldn't correspond to the CD box, but who cares'. She was ultimately sent home during the audition stage of the competition.
Community content is available under
CC-BY-SA
unless otherwise noted.