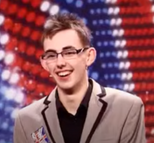 Cal Halbert was an impressionist and a comedian who auditioned for Series 5 of Britain's Got Talent, as well as being one half of The Mimic Men who auditioned for Series 10 of the show.
In his Series 5 audition, he performed impressions of Michael McIntyre, Eamonn Holmes, Fabio Capello, Steven Gerrard and Billy Connolly. Amanda described the act as "Hillarious!" and went on to add that she believed each of his impressions were "Spot on!" Michael described Cal as part of "The new generation!" of comedians. He proceeded to advance onwards to the following round with three yesses, however failed to advance onto the semi finals.
In 2015, Halbert teamed up with impressionist Alfie Joey to form The Mimic Men, who auditioned for Series 10 of Britain's Got Talent. The pair impressed the Judges in their auditions by performing an 'A to Z' of impressions, however failed to reach the Semi-Finals.