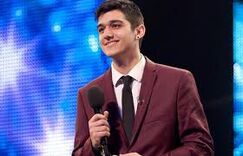 Callum Oakley was a comedian from the Series 6 of Britain's Got Talent. He was aged sixteen at the time of his audition.
In his audition which was shown in a brief montage he made a joke about how video games influence teens in a negative way and then he stated that he has never seen someone fight like the boxing in Wii sports. All judges voted yes and he was sent to the semi finals.
In the Semi-Finals Oakley made remarks about being a teenager and both loving and hating watching television, with his reasoning for hating watching television being due to boring aftershave adverts with good looking French & Italian men being oiled up with a Peter Andre six-pack. He then made remarks surrounding aftershave slogans in an Italian accent, before remarking that he believed a typical scouser should be doing some sort of aftershave advertisement. He then made remarks about his mother being one of those mothers who would buy any twelve of any kind of shampoo for four pounds whenever she went to any kind of shop. He then made remarks about Barbecues and pieces of toilet roles being used upon them at any time sounding like a cheese grater, before stating that you knew that your mother did this if she were to get you, your school uniform three sizes too big, before stating 'don't worry son, you'll grow into that'. He then remarked that the way he stood was not because of the uniform being three sizes too big, it were due to the toilet paper. He then concluded his performance by remarking that he had to go to the top of his road to catch his School Bus, so hoped that if in wind, his uniform would open up like a parachute, before then walking along the stage whilst making the noise of a parachute, and seemingly being blown backwards upon the stage, before then thanking the audience and wishing them a good night. David joked 'Callum, I've got good news for you, your funnier then Gatis Kandis [Who had performed the previous evening]', before adding his belief that Callum had 'very very confident presence like Jack Dee, [which he] also [combined] with physical comedy like Lee Evans', before stating 'whatever happens tonight, your gonna be a comedy star of the future'. Simon however criticised his performance and stated his belief that if Oakley were 'naturally funny', that his routine during 'the audition was better then what [the judges] saw [that night]', before adding that this were irrelevant and didn't really matter because like the other judges said the show was a 'springboard' for Oakley like the other judges had previously said. When asked how his performance had felt by Ant & Dec he stated that he just 'loved being on the stage' and had received 'great comments' so were made up, before Ant added 'this is all you ever want to do isn't it' comedy is all you ever want to do', before Oakley agreed stating that he weren't any good at 'school or anything else', before Ant quipped 'so you'd best make this work', as to which Oakley agreed. He was eliminated in 4th place by Public Vote at the end of the Semi-Final.
After BGT
In Early September 2017 Oakley performed at Hot Water Comedy Club. In Early June 2019 Oakley performed live at the Echo Arena as a part of comedian Paul Smith's 'Tour Support', before once again performing at Hot Water Comedy Club in Late July 2019. In Late November 2021 Oakley appeared upon his friend and fellow comedian (who he often acted as 'Tour Support' for) Paul Smith's Podcast during its second episode.
Community content is available under
CC-BY-SA
unless otherwise noted.