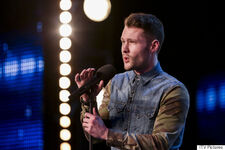 Calum Scott is a singer who reached the Final of Series 9 of Britain's Got Talent. He hails from Hull. He received Simon Cowell's Golden Buzzer.
Calum and his sister Jade auditioned separately one before the other. Jade went on first but her performance was said to be off-key and was sent off. A nervous Calum then stepped onstage. He sang Robyn's "Dancing On My Own". Following a standing ovation, Simon pressed the Golden Buzzer giving Calum an automatic place in the live shows.
In the Semi-Finals, Calum performed 'We Don't Have to Take Our Clothes Off' by Jermaine Stewart. A close-up of his face was being projected on the screen behind. Simon Cowell commented 'You really sound like a recording artist', whilst David Walliams suggested that he could have 'success around the world'.
In the Final, Calum performed "Diamonds" by Rihanna. He stumbled over his words in the first verse, however he continued to finish the song. He finished 6th out of 12 contestants.
After BGT
In 2016, he released a cover of Robyn's 'Dancing on My Own' which peaked at #2 and spent over 30 weeks in the Official Top 40, marking his first ever Top Five Single. His second single, Rhythm Inside, peaked at #90. He released another single, 'You Are The Reason', which peaked at #43 and spent 14 weeks in the Top 100. A version of the song with Leona Lewis was also released.
In 2018, he released his debut album entitled 'Only Human' which peaked at #4 and spent eight weeks in the Official Albums Chart Top 100.
In Winter 2020 Scott returned as part of the Britain's Got Talent Christmas Spectacular and performed his song 'You Are The Reason' live alongside a performance from MerseyGirls.
In late July 2021 Scott featured on Lost Frequencies' new single entitled 'Where Are You Now'. In mid October of the same year the single entered the Official Chart Top 100 at #91, before peaking at #3 in 2022, therefore marking his second ever Top Five Single.[1]In addition to the above the single peaked at #1 in the 'Official Dance Singles Chart Top 40' on January 21st, 2022.[2] In October 2021, Scott appeared as a guest performer on C4's 'Sunday Brunch' within the UK, before later appearing as a Guest Performer on 'The Late Late Show with James Corden'.
In November 2021, Scott featured on with Brazilian recording artist Bryan Behr's single entitled 'Da Primeira Vez (From the First Time)', wherein he sang in both English & Portuguese. Within the same month, Scott featured on Jasmine Thompson's single entitled 'Love Is Just a Word'.
In Mid June 2022 he released his second album entitled 'Bridges', just over a year after he released the albums leading single 'Biblical', which also doubled as the working title for the album before it was later changed to 'Bridges' after the last single featured on the album.[3][4] The album later entered the Official Top 100 Albums Chart at 48. Additionally In 2022, Scott supported The Script during the band's European Tour.
Trivia
During Series 13 of Britain's Got Talent, a contestant named Faith Tucker performed an Italian version of the song You Are The Reason which was entitled Sei Tu La Ragionne as her Semi-Final performance.