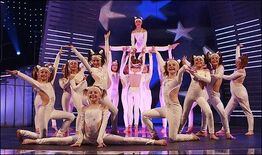 Cheeky Bits were a child dance group who reached the semi-finals of Britain's Got Talent in Series 1.
The music they performed to in their audition was unclear as they were grouped in a compilation of artists who were all performing to the backdrop of Take That's 'Shine'. After their performance, Simon pointed to one member and joked 'you at the front, you're not listening to a word [we say], you're just like yes or no!'
Before their semi-final performance they revealed that they had been rehearsing together since they were seven and that they were 'all really good friends', adding 'The Mini-Mezzos didn't get through last night, so we know we've got to go out there and give the best performance of our lives'. They performed to 'Reach' by S Club 7, wearing white and performing in unison. Piers remarked 'the dancing was great, the outfits were great, the only problem is that you might just be too cheeky for the Queen', with Simon adding 'Was the choreography good? Was it professional? Were you having the time of your lives? Three yesses!' They did not advance through to the Final.
After BGT
In July 2015, Turners Dance Centre, the centre housing Cheeky Bits, posted a statement on Facebook that the girls were still practicing at the centre, even though they were 'much bigger now'.