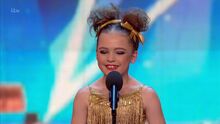 Chloe Fenton is a ten year old dancer from Liverpool who was on Series 10. She made it through to the Semi-Final, however she did not make it through to the Final.
In her audition she danced to Proud Mary by Tina Turner. After she completed her audition she received a standing ovation from the audience. She advanced onto the following round and later reached the Semi-Finals.
In the Semi-Finals she danced to Disco Inferno by The Trammps. Behind her on the stage this time were large purple letters which formed her name. Upon completing her Semi-Finals routine she received a standing ovation from both the audience and the judges (bar Simon Cowell). She was eliminated at the end of her Semi-Final by Public Vote however though.
Before BGT
Between 2014 & 2015 Fenton was one of the dancers on 'Dance Mums UK', which is otherwise referred to as 'Dance Mums with Jennifer Ellison', alongside her mother Serena McConville. Fenton was often referred to as 'Chloe Jnr', as there was also another Chloe upon the show named Chloe Greenwood, who was obviously older than Fenton as Greenwood is referred to as 'Chloe Snr'.[1]
After BGT
The following year in October 2017 she auditioned for CBBC's 'Taking The Next Step', becoming the second ever BGT contestant to have done so as prior to making the BGT Final with MerseyGirls in 2017 Julia Carlile had advanced onto the Semi-Final of 'Taking The Next Step'.[2]