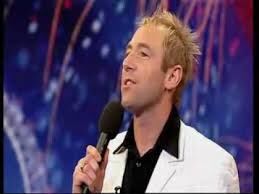 Craig Harper was a comedic singer and impressionist who made the Semi-Finals in Series 2 of Britain's Got Talent. He was aged thirty four at the time of his audition. He hailed from Hull, and worked as an entertainer. Harper had two children aged 14 and 10, and he had always wanted to perform at the Royal Variety Performance, and saw it as 'the ultimate stage'.
In his audition he stated he were to do a 'send up to Boyzone', before stating the way he saw them which were 'Oh cheers son', before he then asked the audience how many members Boyzone had and how many sang. The audience stated that the groups pertained 5 members and 4 sang, before he stated two and Harper stated 'Ronan Keating' and 'Stephen Gately', however he'd make something up for 'The 3 at the back' before deciding to begin his performance by impersonating them. He then performed a brief dance routine and jumped around the stage, before he then began to impersonate Stephen & Ronan Keating as he performed a rendition of 'No Matter What' by Boyzone. Amanda described Harper as a 'breath of fresh air'. She then asked what else he could perform, before he later stated 'a little bit of Piers', before impersonating Piers, before Piers buzzed him. Piers commented that he 'preferred [Harper] to the real Boyzone'. He proceeded to advance onwards to the following round, and later made the semi finals.
In the semi finals he performed a rendition of 'I Am What I Am' by Shirley Bassey as he impersonated her, before he then began to impersonate Enrique Iglesias as he then sang a song by the latter. He then went and hugged on elderly lady sat in the audience, before he then asked her what her perfume were. She then stated 'Oh it's love', before he questioned, 'What's that? In the toilets?' He made the judges choice, however he received but one vote from Amanda, whereas both Piers & Simon voted for his opposition of Nemesis.
Before BGT
He had previously appeared upon 'The Barrimore Show' and the Jane McDonald 'Star for a Night show'. He also previously appeared on 'Opportunity Knocks' alongside Bob Monkhouse at the age of 10.[1]
After BGT
In Late September 2008 Harper toured alongside 'Joe Longthorne and Friends Charity Spectacular'. In October of the same year he went on to tour both Bardsley & Hull. In February 2010 he toured Pen-Y-Cae. In Late August 2014 he attended 'The Child Of The Year Awards'. In late August 2017 he toured alongside Billy Pearce, Shira, & Klix.[2]