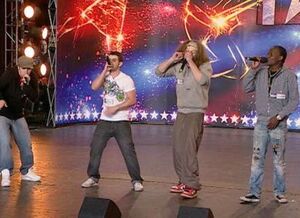 Crew 82 are a group of beatboxers who made it to the Semi-Finals of Britain's Got Talent in Series 1.
In their audition, the quartet performed 'Gold Digger' by Kanye West.
They were initially cut from the Semi-Finals, however were bought back after a number of acts were disqualified. In the Semi-Finals, Simon pressed his buzzer, however no-one else did. The quartet finished 5th, missing out on a place in the Final.