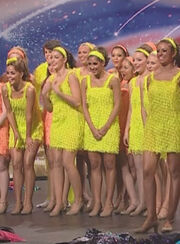 DCD Seniors were a dance group who reached the Semi-Finals of Series 3 of Britain's Got Talent. The group hailed from Cardiff.
In their audition, they wore white clothes and hair nets. Midway through the performance, they took off their white overtops and hair nets to reveal colourful clothing. They advanced onto the following round, and later reached the Semi-Finals.
In the Semi-Finals, they performed a dance routine to 'One Night Only' by Jennifer Hudson. They were eliminated by Public Vote at their Semi-Finals end however though.