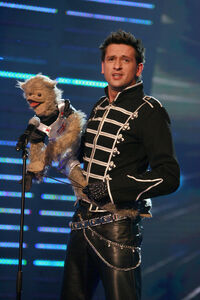 Damon Scott is a puppeteer who reached the final of Britain's Got Talent in Series 1.
Before he auditioned, he confessed that his big dream was 'to perform on the Royal Variety Show'. When Amanda asked what his act was, he replied that he was a 'unique speciality act', as 'there is no-one else on this Earth who does what I do'. He began by revealing his monkey (Bubbles) from a box, covered in a red cloth, who mimed to a medley of tracks by Michael Jackson, complete with dance moves. Amanda remarked 'it was genius, it was hilarious, and I just loved it', with Piers adding 'we need to find an act good enough to perform in from of the Queen at the royal variety show - I think we have just found one'. He was the first televised act to advance through to the second round.
In the semi-finals, he revealed another monkey puppet, and performed to 'No Matter What' by Boyzone as a duet with him and the monkey, finishing with Damon being punched by the puppet. Simon buzzed, stating 'you turned into a children's entertainer' and describing it as 'unoriginal', with Amanda adding 'I miss Bubbles, and I don't think it was as funny as the first time round'. Despite this, Scott still finished in the Top 3 of the Public vote, and won the Judges' vote against Dominic Smith.
In the final, he performed with Bubbles, repeating the routine he performed in his audition. Piers stated 'I think you are the dark horse in this competition', with Amanda adding 'If [Bubbles] could come to my dressing room and do a private show afterwards, that would be great'.
Trivia
Scott was the first ever act to get three 'yes' votes.
Scott received the first ever 'yes' votes from Piers, Amanda, & Simon.
Scott's audition was televised in the same episode as eventual winner Paul Potts' audition.
Scott is the highest placing act ever receive a buzz at some point of the competition.
Before BGT
He had previously competed upon the British Resorts Association's Search for a Star. The national final saw him take first prize, and collect a trophy, a cheque for £2,750, a voucher for a £400 costume, and entries in two stage publications, again winning the audience vote and best speciality act award. He later went on a tour with musician Gene Pitney.
After BGT
In 2007, Scott won the 'Serge Ganjou Award', receiving a £4000 prize. Damon also performed at Amanda Holden's wedding to Chris Hughes held at Babington House, in Somerset, on the 10th of December 2008. In 2013, he revealed that he was in a relationship with Strictly Come Dancing judge Craig Revel Horwood, however they split in 2016.