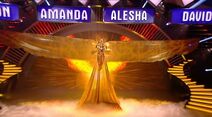 Dennis Egel is a singer from Germany who made it to the semi-finals of Britain's Got Talent in Series 6.
In his audition, he performed 'Bring Me To Life' by Evanescence slowly removing his jacket in order to reveal a golden suit from which two wings stuck out, however half of one of the wings fell off. His performance was buzzed by Simon, Alesha, & Carmen. Alesha jokingly stated 'I actually liked your gold shower cap, that is pretty cool', with David adding his belief that he 'loved it' and believed that the half of the wing having fell off 'only made [the performance] better really'. He later advanced onto the following round, before reaching the Semi-Finals.
In the semi-finals, he performed 'Music Was My First Love' by John Miles whilst stood in front of a golden background, with a large golden sun displayed behind him, and a large golden spotlight shone down upon him. He was eliminated by Public Vote in fourth place at the end of his semi-final.
Trivia
Egel was the first act for guest judge Carmen Electra to buzz.
Guest Judge Carmen Electra gave Egel her first ever 'yes' vote despite the fact that she had buzzed him.
He received Alesha Dixon's first ever 'no' vote, alongside her first buzzing of an act.