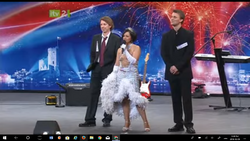 Diva Las Vegas were a seven strong cabaret dancing act who made the semi finals in Series 2 of Britain's Got Talent. They hailed from Runcorn and were aged between 20 & 48.
In their audition they performed a cabaret dance routine. Amanda described their performance as 'great' and a 'lovely bit of camp'. They proceeded to advance onwards to the following round, and they later made the Semi-Finals.
In the Semi-Finals they performed a cabaret dance routine as one member sang a rendition of 'Ain't No Mountain High Enough' by Marvin Gaye, upon heading down upon the stage via sitting in a hoop that gravitated down from the ceiling towards the stage. The group then performed a dance routine, as they walked down the staircases upon either side of the stage, before fireworks then went off of the side of the stage. The singing member then joined in with performing the dance midway through the groups performance. Piers buzzed their performance. Piers commented the fact that there were two problems stating he disbelieved the singing member were a 'good enough singer', before he was then cut across by Amanda stating their performance were visually 'spectacular', a 'three course meal', and 'very flamboyant'.