Jurassic World: Dominion Dominates Fandom Wikis - The Loop
Play Sound
This article exceeds the word/paragraph limits for its type of page. Please see the comments in the source code for specific details. If you believe the large word count is necessary, please add an exemption template above the paragraph in question.
Content Warning. Some of the content on this page may be considered upsetting for some audiences. Discretion is advised when viewing this page.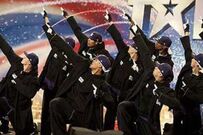 Diversity (Previously named Swift Moves Juniors) are a street dance group that won Series 3 of Britain's Got Talent. They were formed in 2006, and hailed from Essex. They were aged between 12 and 25 at the time of their audition. They were led by Ashley Banjo, who before their audition explained the name of the group; 'Apart from dancing, there's university, school, college, IT solutions, telecoms engineers... we're diverse - ages, race, heights, hairstyles - we're just a diverse group of people'.
As they entered the stage for their audition, one member of the group placed a gym bag at the back of the stage before joining the rest to introduce themselves. Another member, Perri Kiely, began the performance backstage. They began their audition with hoods over their faces, the first line of Martin Luther King's famous 'I Have a Dream' speech playing before the group broke into their routine. Perri entered the stage midway through the performance, before another member, Mitchell Craske, emerged from the gym bag to join the performance. Amanda remarked 'just when I think I've seen it all and nothing could get any better, you came on', with Piers adding 'you are right up there with the best of the dancers you've seen'.
The group were the first act to perform in the first Semi-Final. In the Semi-Finals, they performed another routine, incorporating a robbery scene into their performance, in which Mitchell was lowered down onto the stage and Perri portrayed a policeman. Piers described the group as 'fantastic', with Simon adding 'what you've done collectively over the past few weeks to prepare for this is sensational'. The group finished second in their Semi-Final, behind Susan Boyle.
Their Final routine incorporated Mitchell entering the stage dressed as Superman, before pulling off his clothes to join the routine alongside the rest of the group. Three group members then put on red hats, which were then pressed in turn, representing the 'buzzers' on Britain's Got Talent. Amanda remarked 'you have practically rendered me speechless Ashley - your choreography is second to none'. She also added 'I think you have blown Flawless out of the water', resulting in a negative reaction from the audience. They won the competition ahead of singer and big favourite Susan Boyle, and saxophonist Julian Smith.
After BGT
Since their BGT win they have returned to the show as guest performers on a yearly basis either dancing as guest performers in the semis or in the finals. Their Series 11 performance however differed in the fact that Robert Ankar had died and was no longer a member of the group. Their Series 13 guest performance also differed in that they had Series 12 contestants DVJ join them as part of the routine on stage.
Diversity became Patrons of Dance Aid organised by the UK Registered Charity, Hope for Children in 2009.  They performed at the Wireless Festival in Hyde Park, London on 5th July, and appeared at T4 on the Beach on 19th July at Weston-super-Mare. On 31st August 2009, Diversity performed at Blackpool's Winter Gardens in a Michael Jackson tribute alongside George Sampson and Aidan Davis. This performance was on the same weekend as the World Street Dancing championships. They performed in London to launch the new Disney channel Disney XD.They also performed outside 10 Downing Street in front of Prime Minister Gordon Brown. Diversity also appeared in the Gracious K music video "Migraine Skank" alongside dance group Flawless. Diversity switched on Christmas lights at Chapelfield shopping centre in Norwich on 5th November 2009, then in Meadowhall Shopping Centre in Sheffield on 6th November 2009, then finally in Watford on 12th November 2009.
In 2010 Jordan Banjo appeared on StreetDance 3D. Between 2012 and 2014 Jordan appeared on Ashley Banjo's Secret Street Crew, Got to Dance, Got to Dance: Auditions Uncut, Jordan and Perri's Ultimate Block Party, Jordan and Perri's Xmas Slime, and Nickelodeon's Kids Choice Awards. Diversity promoted street dancing with Change4Life in January as a means of getting kids and families more active. The group teamed up with national retailer The Range Home and Leisure for a commercial to be shown in April and May, with the tagline "If you like Diversity, you'll love The Range". They also appeared in adverts for food for "great little ideas". They brought out their own fitness DVD called Diversity Dance Fitness Fusion in November 2010. In 2011 Ashley appeared upon The Real Hustle, The Magicians, The Apprentice & Text Santa.
Diversity were among the many torch bearers in London's 2012 Olympic Torch Relay, completing their leg of the journey on 22nd July 2012. Diversity performed at the Royal Variety Performance 2012 for the 2nd time, however this time performed alongside Spelbound, Stavros Flatley and Paul Potts. In 2012 & 2013 Ashley served as a panellist for an episode of Celebrity Juice. In 2012 Ashley won an episode of The Cube and split the donation money that he had won between the NSPCC and Beatbullying. In 2013 Ashley appeared in an episode of British Comedy-Drama Stella. In February 2014, Perri won the second series of Splash!. Members of Diversity have also done a number of adverts. Perri & Mitchell did an advert for ITV - Where The Entertainers Live in March 2014. Ashley, Jordan and Perri did a series of videos for Cadbury Marvellous Mix-Ups in May 2014. Jordan and Perri did a number of videos and judging for British Gas Generation Green Energy Performance in May and June 2014. The pair also did a number of adverts for Transformers toys in June. In October Ike took part in itvplayer's Ready when you are. Diversity took part in the closing ceremony of the first Invictus Games on 14th September 2014. Their set included the Corps of Drums from Her Majesty's Band of The Royal Marines alongside three members of Diversity Juniors. The three Diversity Juniors also took part in Diversity performance on Got to Dance on 25th August 2014. In the same year both Ashley & Perri competed upon an episode of Release the Hounds: Jingle Hell, wherein they won £12,000 which they split between the NSPCC & BeatBullying. Several members of Diversity also appeared upon Ashley Banjo's Big Town Dance in 2014, alongside Stars at Your Service. In the same year Perri appeared as a guest on CBBC show 'Hacker Time', whilst Ashley appeared as a guest on 'This Morning'.
Diversity Live broadcast on 4th January 2015 during which the group talked about how various dances that have inspired them and the major influences who have helped them along the way. On 13th March 2015, Warren Russell was a judge at the first ever Balfour Beatty London Youth Games dance competition On 9th May 2015 they gave the opening performance at VE Day 70: A Party to Remember in Horse Guards Parade, London. In 2015 Ashley appeared upon You're Back in the Room as a guest alongside Perri, and presented Perspectives Michael Jackson's Thriller with Ashley Banjo. Between 2015 and 2018 Jordan appeared on I'm a Celebrity... Get Me Out Of Here!, and Dancing On Ice. In 2016 Ashley Banjo co-hosted a BBC game show named Can't Touch This alongside Zoe Ball between the March and October of that year. The pair did not return to host Can't Touch This the following year in 2017, as the BBC had made the decision to axe the game show. Between November 2016 and March 2017 Perri Kiely appeared on the second series of Celebs Go Dating. Although it was not officially announced, Ike Chuks left the group in early 2016 to pursue his music career. Diversity also returned to ITV, where they starred in two episodes of the Ant and Dec's Saturday Night Takeaway segment "Who Shot Simon Cowell?". They returned once again in the New Year to promote their new ITV special Diversity Presents Steal The Show. Ashley Banjo was also a judge on the Strictly Come Dancing rival show Dance Dance Dance. In 2017 Robert Ankar died due to a car crash.
Since 2017 Ashley Banjo has been co hosting cancer awareness show The Real Full Monty alongside Alexander Armstrong. In 2017 Ashley presented a TV special entitled A Night for the Emergency Services, competed on a celebrity special of Catchphrase, became the Roving Reporter for the Pride of Britain Awards, became a judge upon All Round to Mrs. Brown's for an episode, and presented 'Diversity Presents Steal the Show'. Additionally on Saturday 24th June 2017 both Ashley & Perri appeared upon an episode of CBBC's 'The Playlist'. Ashley has also been a judge on the revived series of Dancing On Ice from 2018, along with Jordan Banjo as the backstage digital host for the 2018 series, before Jordan was replaced by 2018 contestant Kem Cetinay in the role. In March 2018 both Ashley and Jordan Banjo participated in the I'm a Celebrity...Get Out of Me Ear segment of Ant & Dec's Saturday Night Takeaway. Diversity were growing too old so wanted to replace themselves with younger diversity dancers, otherwise known as DVJ who auditioned for Series 12. DVJ stood for Diversity junior, and the dancers from DVJ had been coached by Ashley Banjo, and Perri Kiely. DVJ had rehearsed for over three weeks to learn the dance routine that they auditioned for Series 12 with. Despite DVJ's advantage via Ashley and Perri coaching them they still reached the semi finals and later the finals in Series 12. Unlike Diversity DVJ did not win, they came sixth to end their stint on the twelfth series of the show. In September 2018 Jordan competed on Celebrity Catchphrase playing for charity WellChild, and being eliminated alongside Ruth Jones, with Rob Beckett making the super catchphrase. In October 2018 Sam Craske appeared on Celebs Go Dating. In 2018 Perri won an episode of 'The Great Stand Up to Cancer Bake Off'.
Between 2019 & 2020 Jordan hosted BBC's The Greatest Dancer, alongside Britain's Got Talent judge Alesha Dixon. As of February 2019 Jordan & Perri have hosted a show on Kiss Radio during the weekends, however by Early August 2020 the duo stopped hosting this show and instead began hosting the Breakfast Show every weekday. In 2019 Perri Kiely and Jordan Banjo both appeared as guests on Step Up to the Plate. On Sunday 1st December 2019 Ashley Banjo appeared as a guest chef on Sunday Brunch on Channel 4 in the UK. Since 2019 Ashley has been the presenter of Chanel 4 show 'Flirty Dancing'. Over Christmas in 2019 Diversity appeared in a Christmas pantomime of Robin Hood with Ashley Banjo in the title role, this being the third consecutive year that they appeared in a Christmas pantomime.
In February 2020 the group appeared during the first live show of The Greatest Dancer as Guest Performers. In Early March 2020 Perri Kiely placed as runner-up on the years series of Dancing On Ice alongside professional skating partner Vanessa Bauer. In Early May 2020 Ashley Banjo appeared via video call in a Tesco advert for their 'Food Love Stories' thanking Stacey Solomon for dedicating a Chocolate Cheesecake that she had made to him. In Early July 2020 the group performed a routine in Dagenham during 'Black Lives Matter'. In Late August 2020 Jordan competed upon the penultimate episode of Stephen Mulhern's new game show named 'Rolling In It' alongside a member of the public named Ashley, however the duo lost their episode. Ashley Banjo acted as a guest judge for the BGT 2020 Semi-Finals, following Simon Cowells back injury. In Late October 2020 Jordan competed on an episode of The Chase: Celebrity Special, however he lost the £6000 that he was playing for as he was caught by 'chaser' Jenny "The Vixen" Ryan. On 1st November 2020 both Ashley & Jordan Banjo appeared on the Pride of Britain Awards in order to present a Child of Courage award to Emmie Narayan-Nicholas alongside footballer Marcus Rashford, before providing Rashford a Special Recognition Award. On Tuesday 3rd November 2020 Ashley appeared upon an episode of 'Lorraine', wherein he announced the fact that Diversity had scheduled a tour entitled 'Connected' for 2021. On Sunday 8th November 2020 both Jordan & Perri appeared upon the final episode of 'Martin & Roman's Sunday Best!'. On Friday 20th November 2020 Ashley appeared in the new advert for 'Portal' from Facebook via video call alongside 'This Morning' presenter Holly Willoughby who was on the other end of the call within the ad. On Thursday 3rd December 2020 both Jordan & Perri competed on an episode of Celebrity Crystal Maze. On Monday December 14th 2020 Ashley appeared on Good Morning Britain. On Monday December 14th & Tuesday December 15th Perri appeared on 'The Real Full Monty: On Ice'. On Saturday 19th December 2020 both Jordan & Perri competed on an episode of Celebrity Supermarket Sweep. On Thursday 24th December 2020 Jordan appeared upon the 'Celebrity Catchphrase: Christmas Special'.
In Winter 2020 Diversity performed alongside both George Sampson & DVJ during the Britain's Got Talent Christmas Spectacular. The trio performed a Christmas themed dance routine, with Diversity joining a member of DVJ upon the stage at the end of the performance, before the performance ended with the words 'Reach Out This Christmas' appearing in writing on the back of the stage. The following day on Saturday 26th December 2020 Jordan competed upon a celebrity episode of 'Who Wants To Be A Millionaire' in which he played for charity.
On Tuesday 27th April the groups Black Lives Matter dance routine was nominated by BAFTA for the 'must-see moment' award.[1] On Saturday 1st May 2021 Ashley appeared upon an episode of 'The Jonathan Ross Show'. On Saturday 15th May 2021 both Ashley & Jordan Banjo appeared upon an episode of CBBC's 'The Playlist', now known as 'The Ultimate Playlist'. On Saturday 29th May 2021 Jordan competed in the first episode of the UK Version of The Masked Dancer as the character of the 'Viper', however he was the first contestant to be eliminated from the show, when asked if anyone from Diversity knew he would be competed he stated that he had only told his brother Ashley.[2] On 6th June 2021 Diversity won the 'must-see moment' award at the BAFTA Television Awards. On Friday 11th June 2021 Ashley appeared on an episode of ITV's 'Lorraine'. The following day on Saturday 12th June 2021 Ashley appeared upon an episode of 'Martin & Roman's Weekend Best!'. In July 2021 Ashley hosted new ITV Game show 'The Void' alongside Fleur East. In mid September 2021 both Ashley, Jordan & Perri appeared upon an episode of 'Celebrity Gogglebox' as a part of C4's 'Black to Front Friday' which aimed to push black talent to the forefront of the television line up. On Tuesday 19th October 2021 Ashley fronted the ITV Documentary 'Ashley Banjo: Britain in Black and White', which was the second of three Black History Month documentaries to air on the channel. Towards the end of the aforementioned documentary Jordan Banjo also appeared as it showcased both Ashley & Jordan at the BAFTAs winning the 'Must See Moment' Award. On Thursday 4th November 2021 Ashley co-hosted the pre-recorded 'Pride of Britain Awards' alongside Carol Vorderman. In addition to this both Jordan & Perri were present amongst the celebrity guests in the audience, before Jordan later left to camp out at Twickenham Stadium for the night with 'Spirit of Adventure Award' winner Max Woosey & his father.[3] On Saturday 18th December 2021 Jordan appeared upon an episode of 'Michael McIntyre's The Wheel' on BBC1. On Thursday 23rd December 2021 both Jordan & Perri competed on a celebrity special of ITV's 'The Cube'. On Sunday 26th December 2021 Perri competed on a celebrity special of ITV's 'Catchphrase'. Throughout 2021 Ashley partnered with both detergent brand Persil and TV channel Sky Nature in order to make a series of short films which highlighted environmental action.
In 2022 Ashley became an MBE, and is set to host a TV Show entitled 'Dance Monsters'.[4] On Sunday 22nd May 2022 Jordan appeared upon an episode of 'Tipping Point: Lucky Stars'. On Wednesday 1st June 2022, Diversity returned as Guest Performers once again wherein they performed a dance routine based on society's overreliance on technology. On Saturday 4th June 2022 Diversity performed at the BBC's 'Platinum Party at the Palace' in celebration of the Queen's Platinum Jubilee.
Controversy
The groups 2020 performance was inspired by the 'Black Lives Matter' movement, and received over 20,000 complaints, alongside several messages of support. The group also defended their performance, and it was heavily discussed upon Good Morning Britain by Piers Morgan & Susanna Reid between Monday 14th September to Wednesday 16th September. On Wednesday 16th September however ITV released a statement in support of Diversity's performance. The following day on Thursday 17th September Ofcom stated that they would not investigate the groups performance, despite the large number of complaints.
Trivia
Diversity are the first, and only, act to win the show despite not winning their Semi-Final.
According to the Daily Mail the group were offered the opportunity to compete upon the show upon being discovered by BGT's Talent Scouts from Simon's company Syco.[5]
Ashley is the first ever former BGT Contestant to be a Guest Judge.
Jordan Banjo is the first ever BGT Alumini to appear on a show in the British Version of The Masked Singer / The Masked Dancer Series of Shows.