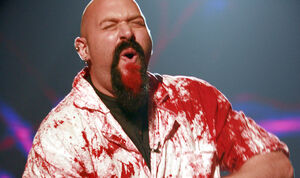 Roger Tann, more commonly known by his stage name Doctor Gore, is a freak magician who made it to the semi-finals of Britain's Got Talent in
Series 1
.
He entered the stage with two assistants, stating the name of his act as 'madness and magic'. He began by placing a clamp in the mouth of one, making her scream then supposedly cutting her tongue off, covering her face in what looked like blood. He then made the other lay on the table, screaming 'do you want some gore' as he placed a rotary saw on the table and began sawing the assistant in half. The first assistant then screamed 'you've killed her' before Roger pulled the saw away, revealing the assistant unharmed. Piers remarked 'you are a sick individual, but it was one of the funniest things I've seen in years', whilst Amanda described it as 'a bad episode of Casualty'.
Roger began his semi-final performance by appearing to saw off his hand from the wrist using a large knife, once again shouting 'do you want to see some gore?' He then made his assistant lie on a trolley before using a rotary saw to remove pieces of flesh and what appeared to be a large organ from his body, causing all three judges pressed their buzzers. Simon remarked the performance to 'a weird porno movie', and he did not advance through to the next round.
Ofcom Breach
Edit
After the act had been aired, Ofcom received a number of complaints, stating that the gruesome nature of the tricks was 'unsuitable for the show', with some parents stating that their children had suffered nightmares. Despite efforts to edit the performance, Ofcom ruled that it had been in breach of broadcasting code protecting children from unsuitable material. The semi-final video was also prevented from being added to Youtube due to its content.
After BGT
Edit
Roger has continued to perform at a number of events over the last 10 years, performing both close-up and stage magic as Dr. Gore as well as a number of other alternate personalities, including his 'identical twin', The Great Hoodunit.