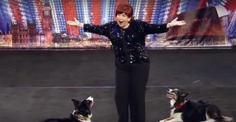 Donelda Guy was both a dog trainer and a canine freestyler who participated in Series 5. Donelda was aged 66 and was from Portsmouth. She also brought along her dogs Mega and Biba.
In her audition she ran on stage and had her two dogs stand on their hind legs, follow her, then stand on their hind legs once again. She then had then dogs jump over her back and run across the stage and roll over alongside her. She then had them run around in circles before they both walked side by side on their side legs. David Hasselhoff praised her 'elegance.' Amanda Holden added that it was 'Absolutely fantastic.' Michael McIntyre concluded it was 'very stylish and very cool.' She advanced through to the following round with three yesses.
She competed in semi final one, having her dogs follow her and stand on their hind legs around the stage once again, after getting up from a large throne. The trio did several tricks to Get The Party Started by P!nk. David Haselhoff commented 'It was so much better than the first time around'! Michael McIntyre added it was 'more Entertaining'. They were eliminated at their semi finals end however though.
Before BGT
In 2006 Guy appeared on CBBC children's show 'The Slammer'.