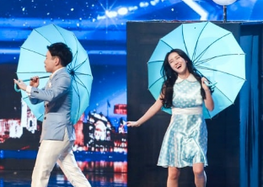 Ellie K. Park & Jeki Yoo are a quick-change duo from South Korea who reached the Semi-Finals in Series 12 of Britain's Got Talent. When asked why they had auditioned for Britain's Got Talent, they responded that the show is 'a show loved by people all over the world'.
In their audition, they began in detective's clothes, before switching clothes to perform to 'Umbrella' and 'Singin' in the Rain'. This was then repeated behind a curtain, and behind smoke that briefly appeared in front of Ellie. Amanda described the act as 'absolutely pure variety', whilst Alesha simply remarked 'I'm glad you came to this show'.
In the Semi-Finals Jeki ran around a red phone box before it began to ring as 'Wake Me Up Before You Go' by Wham! played. Ellie was then seen getting out of a bed and getting dressed before leaving the house. Jeki then held an umbrella before providing Ellie with a Teddy bear and holding the umbrella side wards open before closing it. Jeki then sat on the bench beneath the umbrella as Ellie placed the teddy bear beside him before walking behind the bench and re-emerging with two yellow balloons to 'It Takes Two' by Marvin Gaye & Kim Weston. Jeki then went behind the bench and showed Ellie a proposal upon a blue picnic blanket, before he changed into a white suit as Ellie now wore a wedding dress and held the teddy bear, to 'Marry You' by Bruno Mars. Simon buzzed the performance midway through. Simon commented that it were 'Very slow change' and that it partly wasn't the duos, fault yet he did not believe the performance worked. David remarked 'I rather enjoyed it!' before informing Simon that two people getting married was romantic before telling him 'This would be an ideal moment to propose to Lauren!' The duo concluded their Semi-Final in last place. 
Before BGT
In 2006 Jeki won Asia's biggest magic contest known as 'The Busan International Magic Festival' whilst he was still a high school student. In 2007 he appeared as a guest performer upon Hakkone Magic Convention in Japan. In 2008 he won both the JAPAN W.M.S.A Competition for Close-up magic & appeared as a Guest Performer upon Thailand A.M.A magic Convention. In 2009 he won the close up award in America's I.B.M magic contest which also doubles up as one of the largest magic contests in the world. In the same year he appeared as a Guest Performer upon Italy Abano Magic Convention, & Tenyo Magic Festival, with this later being aired in Japan in 2010. In 2010 he appeared upon God Hands Two in Japan, Sweden Magic Lund Convention Guest Performance in Sweden, & Taiwan's 'Double Lecture' Tour which he returned to in 2011 as a Guest Performer. Later in 2011 he appeared upon FISM ASIA in Hong Kong & FISM WORLD CHAMPIONSHIPS OF MAGIC IN ASIA Grand prix.
In 2012 Jeki teamed up with Elli K. Park, a female magician who had conquered the 'International Magic Contest'. Between 2012 & 2015 Jeki appeared as a Guest Performer upon the UK Blackpool Convention which aired in Costa Rica. In 2012 he appeared on Champions of Magic Concert, Great wall International Magic Festival, Hefei Magic Convention, & FISM WORLD CHAMPIONSHIPS OF MAGIC Card magic in which he placed third. In 2013 the duo appeared upon famous Korean TV Show entitled 'Starking' which aired on SBS, whereupon they performed a quick change act for an astonishing twenty minutes. Within the same year Jeki appeared as a Guest Performer at the FFF Magic Convention, won the Swiss Magic Grenchen Contest, and the Swiss Magic Grenchen Competition, appeared upon BTV China's show 'The World's Best Magicians' and appeared upon the SBS Drama Awards as a Guest Performer. In 2014 he appeared upon the IBM&SAM Combined Magic Convention as a Guest Performer, SBS 'Fashion King' as a Guest Performer, TVN's 'Moist Brothers' as a Guest Performer, JTBC New Year special 'Magic show, show, show', the TMA Magic Convention as a Guest Performer, the World Magic Seminar Asia (UGM) as a Guest Performer, the West Lake International Magic Festival, & the Spain Hocus Pocus Magic Festival as a Guest Performer. In 2015 he appeared upon both China Tour & Vietnam Magic Tour.
Jeki is also a member of "SNAP" which is one of the biggest magic shows in Korea and due to this he was invited to perform at the Edinburgh Festival in the UK in 2016. In 2016 both Elli & Jeki achieved the Guinness World Record for the 'Most costume change illusions in 30 seconds'. In the same year the duo appeared upon French TV Show 'Le Plus Grand Cabaret Du Monde' & Chinese TV Show 'China Guinness Nights'. Additionally in 2016 he performed upon The A.M.A Awards in Beverly Hills, The Qingdao tour magic show at the Qindao Film Festival, and was a Royal cruise ship guest entertainer in Japan. A year before making the Semi-Finals of BGT, Jeki competed on Series 12 of America's Got Talent without his magic partner Ellie and failed to make the live shows being eliminated in the second round. In October 2017 he was crowned the 'Cutest Magician of All Time' by AGT. Additionally in 2017 he appeared at Private Events in Costa Rica, The IBM Ring 75th Anniversary 'Magic!' in Canada, Magic Show in Hawaii, Scot Nery's Booby Trap Show in Hollywood, the IBM&SAM Combined Magic Convention in Louisville, Kentucky, Magic Mania in Santa Monica, & the Magic Castle Hollywood, LA. In 2018 he appeared upon 'Super Magic' in Rome and performed at Corporate Events in Hong Kong.[1]
After BGT
Later in 2018 Jeki competed on an episode of Masters of Illusion, which was entitled '19 Masters of Illusion' and aired on The CW in the United States. Within the same year Jeki also appeared on Steve Harvey's show known as 'Steve's Must See', appeared upon SCTV's 'The Grand Master Asia', and appeared upon Israel's Got Talent as a Guest Performer. He also performed at the Magic Castle Hollywood, LA for the second time. Alongside this he also performed at UK Private Events, Roncalli's Dinner Show in Germany, corporate events in Hong Kong, & SCTV's 'The Grand Master Asia'. In 2019 he performed a Quick Change Show in Hawaii at the Four Seasons Resort Oahu at Ko Olina.[2]
In May 2020 the duo both appeared upon an episode of 'Masters of Illusion' marking Ellie's first appearance upon the show, before Jeki appeared upon another two episodes of the show alone once again, with the first occurring later in May, and the second occurring in September.[3]
On Friday 29th January 2021 Jeki appeared upon an episode of the second half of the 7th season of Penn & Teller: Fool Us, and successfully fooled the duo. Additionally, in 2021 Jeki auditioned for Season 16 of America's Got Talent, however his performance was Untelevised, yet a card was displayed for him during the deliberations.
Trivia
Despite Ellie's name being spelt as 'Elli' every form of media in relation to BGT misspelt her name by adding an E upon the end of her name, whereas her name lacks an E at the end and finishes with the letter I.