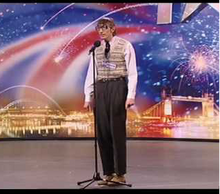 Adam Gitlin (Otherwise known as Eugene The Librarian) is a thirty seven year old dentist. He auditioned for Series 3 of Britain's Got Talent and was a variety act who presented the judges with his passion for poetry.
He was instantly buzzed by Piers Morgan having found out what his act was. He then recited his own comedic poem about his mother believing he'd never get to the next round on the show and saw him as a loser. He then stated he was no contortionist, had no pet, and also had no friends as part of his poem. He then believed he could do magic as he stated when he entered crowded rooms all of the girls disappeared. He then stated that he'd do any trick to get on the show, giving the impression that he would rhyme "trick" with "dick" to make fun of Piers Morgan, before then complimenting him calling him "A genius with his finger on the pulse of popular culture." He then concluded his act stating that he could go home or could go through, yet either way he could tell his daughters that their father had given it a go.
Piers complimented him by stating his act was actually "A very funny act" and apologised for his instant buzzing of the act, seemingly regretting his decision to do so. Amanda Holden went on to add that Eugene's act had "Made her laugh" and believed it was very well written. Simon Cowell followed this up by calling Eugene's act "Pretty Remarkable" having been the first comedic poet on the show to receive a standing ovation. Despite his initial buzzing of the act Piers ultimately voted "yes" alongside Amanda and Simon sending Eugene through to the following round with three yeses. Later Amanda and Simon began to believe that Eugene and Stephen could be somehow related with Stephen stating that it'd never be true, as he would never bring a relative of his to audition for the show.