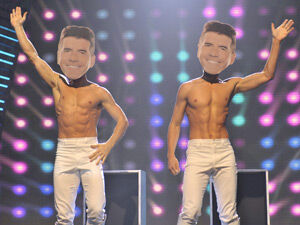 Faces of Disco are a comedic dance duo who made it to the Semi-Finals of Britain's Got Talent in Series 3. Their act was a dance act with 'something a little bit different'. The duo consisted of Liam & Richard. Liam was aged 24 at the time of their audition whereas, Richard was aged 30 at the time of their audition.
In their audition they stood beside a boom box of some sort before then retrieving two masks of two members of The Village People, before they briefly danced upon the stage whilst wearing these masks to 'YMCA' by The Village people, before they later wore masks of both Simon Cowell & Louie Walsh, and Barack Obama and another man, as they continued to dance. They were buzzed by Simon. Piers asked 'how did you know how Simon dances', with Kelly adding her belief that their performance were 'funny as hell', 'brilliant' & 'entertaining'. They later advanced onto the following round before they advanced onto the Semi-Finals.
In the Semi-Finals they performed a dance routine to 'In The Navy' by The Village People whilst wearing a mask of Barack Obama and another man, before they then wore masks of Prince Charles & Camilla Parker-Bowles,  Ant & Dec, and Peter Andre & Katie Price, before removing their shirts and wearing multiple masks of Simon Cowell whilst being accompanied by several other men who danced on the spot alongside them around the stage. Their performance was buzzed by both Simon & Piers. They were eliminated at their Semi-Finals end by Public Vote however though.
After BGT
In 2013 they competed on Italy's Got Talent, wherein they reached the Final and placed fifteenth overall.[1] Faces Of Disco appeared on France Got Talent 2016 where they where eliminated in the audition round.