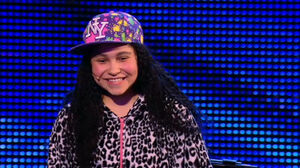 Gabrielle Gardiner (Professionally known as Gabz) was a singer, rapper & pianist who made it to the Final of Series 7 of Britain's Got Talent. She was aged fourteen at the time of her audition. She was the last act to audition this Series.
In her audition she sang, rapped, & played the piano to her song entitled 'The One' which was about losing the love of your life. Before she began her performance Simon asked if she were imagining what it would be like, before Gabz responded that she had 'watched some movies'. David commented that if she could 'write a song like that at fourteen years old, who knows what else you could do', with Simon adding his belief that it were a 'cute song' with a 'great chorus', and believed it could get somewhere if it were produced properly, however criticised her piano playing. She later advanced onto the following round, before reaching the Semi-Finals.
In the Semi-Finals she performed 'The One' once again, however midway through her performance several people walked upon the stage and potentially began to sing alongside her until she reached the rap portion of the song. She later advanced onto the Final after having won the Judges Vote against Jack and Cormac as every judge had voted for her to advance.
In the Final she performed another original song entitled 'Just Lie There'. Once again midway through her performance several people walked upon the stage and seemingly began to sing the song alongside her, however towards the end of her performance she once again performed 'The One', with the other people upon the stage still seemingly performing the song alongside her. She concluded the Final in seventh place.
After BGT
She released her debut single 'The One' on 30th June 2013 after renaming the single "Lighters" and the single reached a peak of #6 on the Official Singles Chart. She also later released 'Just Lie There', however the chart performance of this was not tracked. She later released a third single named "Change the Game" on March 21st 2014. Her fourth single, "Holiday in Brazil", was released ahead of the 2014 FIFA World Cup in Brazil. It was written by Gabz and Paul Baker, with 25p from every download going to the Make-A-Wish Foundation UK. The video was filmed in London, featuring several of her brothers, two of her cousins and several of her school friends. In 2016 she released her 'Up EP', which failed commercially. Since 2018, Gabz has appeared in BBC talent series All Together Now, as one of the hundred judges. In 2019 she toured alongside Bailey McConnell, Kneworlduk also known as KNE, and MerseyGirls.[1] In 2020 she released her 'Self Destruct EP', which once again failed commercially.