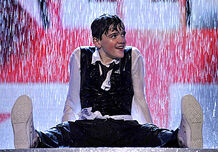 George Sampson is a breakdancer who competed in both Series 1 and Series 2 of Britain's Got Talent, winning the second series. He is the youngest solo act to have won Britain's Got Talent, and has gone on to have a successful career in dancing, acting and also as a presenter.
Series 1
Sampson's first appearance was in Series 1 of Britain's Got Talent. Before his audition, he revealed that he came from a rough background, and that he had to pay for his own dance lessons, stating that 'this competition could be a big chance'. He also stated that he was the only person in his school who was interested in dance. In his audition, he performed to 'Drop' by Timbaland, concluding with him spinning on his head. Simon described him as 'a phenomenal dancer', with Piers adding 'you have amazing potential'. He advanced through to the next round, however he did not reach the semi-finals.
Series 2
Sampson returned for the second series, revealing that he had 'bigger, better moves' planned, and that he was dancing on the streets of Manchester in order to raise money for his lessons. In his audition he performed to 'Rock This Party' by Bob Sinclair. Simon remarked 'you're the best dancer we've had by a clear mile', with Piers adding 'we like people like you'.
In his semi-final performance, he performed to 'Singin' in the Rain' by Mint Royale. His performance began with him holding onto a lamppost, before he began his routine, wearing a top hat and suit. Midway through the performance, streams of water began to fall from the stage, and he danced underneath the water. Amanda described him as 'inspirational', adding 'I want it for you as badly as you do'. He won the Public vote, advancing through to the Final.
Sampson's Final performance was identical to his semi-final performance, the backing track once again being 'Singin' in the Rain' by Mint Royale. However his final performance was originally intended to be a mix of 'Stayin Alive' and 'Rock your Body' however this mix were not finished in time for his final performance. Piers remarked 'each time I see you, it's the best performance you've ever done', with Amanda adding 'I think you're in with a big shot [of winning]'. He won the series, finishing above dance duo Signature and boy soprano Andrew Johnston. As a result of Sampson's performance, 'Singin' in the Rain' re-entered the Official Chart and reached #1.
After BGT
On 31st August 2009, Sampson performed at Blackpool's Winter Gardens in a Michael Jackson tribute alongside Aidan Davis & Diversity. Following his BGT win he appeared as a guest on T4 on the beach, and appeared in a hip-hop musical entitled Into the Hoods. He released an album titled Get Up on the Dance Floor/Heads Up. He appeared in Television shows ranging from Waterloo Road, Mount Pleasant, Friday Download, Casualty, The Dumping Ground, Emmerdale, and Celebrity Coach Trip the latter placing 3rd with Coach Partner Roxanne Pallet, and Big Narstie & Stevo. He appeared in films such as Street Dance 3D, Street dance 2, and DVD Access 2 All Areas. In 2016 he returned to BGT as guest performer as part of a group of guest performing acts.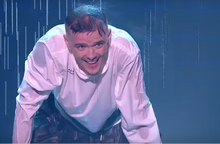 In 2019 he returned to Britain's Got Talent to represent Great Britain on The Champions (Series 1) at the age of twenty six. He informed viewers that a few years after his win he received a bad back injury and may have never been able to dance again. He ensured to work his hardest to heal it however. He danced on stage with a young child before back flipping off of the stage to futuristic music before it then transitioned to Singin' in the Rain by Mint Royale. He then danced by a lookalike of himself when he were young. He then danced in the audience and in front of the judges desk. He later played the moment he won the second series of the show before dancing and flipping once again, yet this time to Feeling Good by Muse. He later performed on the stage beneath streams of water which began to fall from the stage, after a clip was played of the potential of him never break dancing or dancing again, as the music changed once again yet this time to Gravity by DJ Fresh. He went on to receive a standing ovation with Amanda Holden stating 'Oh my god, that was amazing', to Simon Cowell. David Walliams commented that he adored him and believed George were 'a superstar'. Alesha Dixon added that she 'felt so emotional'. Amanda believed he were 'The comeback kid'. Simon believed George were 'one of the most iconic' dance acts that BGT had ever held host to and seen. He did not make the final of the champions however though.
In Winter 2020 Diversity performed alongside both Diversity & DVJ during the Britain's Got Talent Christmas Spectacular. The trio performed a Christmas themed dance routine, with Sampson joining a member of DVJ upon the stage in the middle of the performance whilst sat upon a bench alongside them, before then getting up and performing a flip. Sampson's segmented ended with the camera cutting away from his part of the bench and a member of Diversity appearing there in his place.