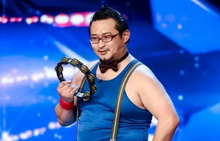 Gonzo was a Japanese performer who participated in Series 13 of Britain's Got Talent. He entered the stage after a guest performance from Susan Boyle, wearing tights and carrying a tambourine. When asked why he flew over to perform on Britain's Got Talent, he responded, in broken English, 'I watched on Youtube Susan Boyle's thing', and 'I recommend Susan Boyle's energy into my heart'.
In his audition, he performed to Livin La Vida Loca by Ricky Martin and Just Got Paid by Sigala and Ella Eyre featuring Meghan Trainor and French Montana, dancing in an erotic fashion whilst shaking the tambourine that he held. Towards the end of his performance, he took off his glasses and started hitting his face with the tambourine. David joked ;if you're not the next Susan Boyle then there's no justice', with Alesha adding 'the part when you kept whacking your face with the tambourine was when you sold it for me'.
In his Semi-Finals performance he opened the final night of the Semis. He walked out of a large circle playing his tambourine to Everybody Dance Now by C+C Music Factory. He later switched the song to Apache (Jump On It) by The SugarHill Gang. He concluded his performance with Let's Get Loud by Jennifer Lopez, where he began hitting his face with his tambourine once again much like he did in his audition. He received a standing ovation as confetti began to sprinkle down onto the stage.
Before BGT
Gonzo had previously appeared on Asia's Got Talent in it's first series, where he was a Semi-Finalist.
After BGT
Later in 2019 Gonzo auditioned for America's Got Talent, and reached the Quarter-Finals.
In 2021 Gonzo advanced onto the Semi-Finals of the seventh season of Spain's Got Talent.
Trivia
Gonzo is the fourth known act to have participated on both Britain's Got Talent and America's Got Talent in the same year, after Siro-A, Charlie Plaçais, Mr. Uekusa, & Wesley Williams. However, Gonzo is the only one of the five to have made the live shows on both versions.

Additionally, Gonzo is the only act in Got Talent history to date, to have made the live shows on America's Got Talent, Britain's Got Talent, & Asia's Got Talent.