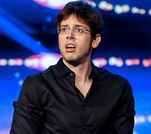 Guy First (aka State of The Fart) is a performer from Israel who participated in Series 13 of Britain's Got Talent. Before his audition, he revealed that he had come to Britain as 'this is an international audience - I want to go international'. His pre-audition bio made out that Guy was a singer.
In his audition, he put his hands together and made 'fart' noises to 'Ghostbusters' by Ray Parker Jr. and 'Eye of the Tiger' by Survivor, shaking his head and making facial expressions whilst doing so. David described the act as 'so stupid but so much fun', with Alesha adding 'I think my favourite part about it was your face'.
In his Semi-Final performance, he performed a similar routine to 'Toxic' by Britney Spears, complete with a green background and 'dancers' wearing toxic masks. He then went on to perform to 'We Will Rock You' by Queen, at the end of which Alesha buzzed. She criticised the act, stating 'do we really want to see Farty Marty in the Royal Variety Performance?' Simon, however, was positive, stating 'I like acts I have never been seen before' and adding 'this is my favourite act so far'. Simon Cowell also stated that he would be his son 'Erics favourite act of the night, and it [would] really bug him all night, as [Eric Cowell his son would] be trying to make fart noises like Guy with his hands all night.'
After BGT
In 2020, Guy appeared on Das Supertalent (Germany's Got Talent) receiving the Golden Buzzer and making the Final. He later appeared on Bulgaria's Got Talent in 2021.