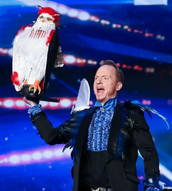 Håkan Berg is a Swedish magician who is currently participating in Series 14 of Britain's Got Talent. He was 49 years of age at the time of his audition.
Berg's audition was shown after a montage of unsuccessful auditions. He entered the stage on a hover board after a disembodied voice spoke and stated the words 'Introducing the king of birds... Håkan Berg!' when the stage was covered in steam. He began his audition by wetting fire to a piece of paper card which transformed into a toy bird. He then acted as if the bird had dragged him off of the stage before re-emerging, making bird sounds with his mouth and remarking 'if [the bird] moves, it lives' before immediately joking that the batteries may run out. He then stated that he would perform the 'champagne in newspaper' trick, before pouring the champagne out of the glass and through the newspaper; he then performed the trick in the correct manner and poured the champagne from the newspaper back into the glass. He then made the two doves 'disappear', before one was revealed to be stuck to his back. He then placed the dove on his left shoulder before he revealed an owl to now be beneath the newspaper. Alesha described the act as 'absolutely hilarious', with Simon adding 'you're funny, and I think you're clever as well'.
Before BGT
Edit
In 1999 Håkan played a character named Larry in a Swedish comedy TV-show named Full Frys (English title Full Freezer). In 2011 he auditioned for the fifth series of Sweden's Got Talent, however he failed to make the semi finals. Due to failing to make the semis alongside many other acts Håkan was invited to participate in a wildcard round alongside them. Håkan ultimately did not receive a wildcard from neither the viewers or the judges so failed to make the final. In 2015 he received a Bronze Medal in Comedy Magic at FISM (which is essentially the World Championships of Magic) in Italy. In 2018, two years prior to appearing on BGT he was an untelevised act who failed to proceeded past the auditions on America's Got Talent during its thirteenth series. Later in 2018 he appeared on Penn & Teller: Fool Us, however he only fooled Teller. Later in 2018 he performed several shows at the Magic Castle which is located in Hollywood.
Community content is available under
CC-BY-SA
unless otherwise noted.