Congrats to Axel!
Series 15
of Britain's Got Talent has concluded, with
Axel Blake
as a very worthy winner. And with that we're done for the year - although the Wiki will always be around, so you're very welcome to browse or update acts on here. We'd love to get more people on board!
BGT changes lives.
This show has the power to change your life forever — all in a matter of seconds after you step out onto the stage. But you don't always have to win the contest to win a new life. Here are some of the most famous contestants to have appeared on BGT over the years. (Don't find the person you're looking for? Explore our database a bit more deeply.
Featured Articles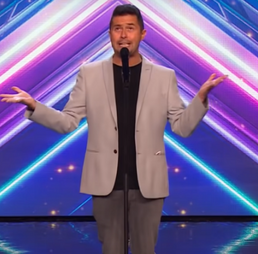 As chosen by our admins every month!
Featured Articles - August 2022
Want to help edit the site?
Do you want to contribute to the largest repository of BGT information freely available on the Internet? Well we've got some good news - you can! Take a look at
this
handy guide if you want some information on how to help out. Please take a look at the Wiki-defined
Rules
as well!
Before you edit, you will need to make an account in order to allow your contributions to be seen. It'll also help us to get to know you more which can only be a good thing.
Got any Feedback?

As a BGT Wiki, we want to make as many people as possible feel included. If you feel like this has not been the case for you, or have any suggestions as to how we can improve this, we'd love to hear from you. Just visit the Feedback and Concerns thread to see how to do so.
Join the Discussion!

We want to make this Wiki as user-centred as possible, and there's no better way to feel a part of the community than to join in with the discussion! Feel free to suggest improvements to the wiki, read announcements, or just talk about the show - we'd love to see you there.