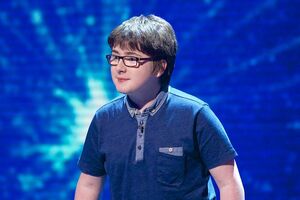 Jack Carroll is a comedian who came second in
Series 7
 of Britain's Got Talent, and who has cerebal palsy.
Before his audition, he was seen talking to fellow comedian Paul Stark. His audition was shown, with the Judges buzzing him and the audience calling him to be taken off stage.
When Jack was asked to introduce himself, he stated 'I'm a professional gymnast'. He hen proceded to do a stand-up routine, with jokes focusing mainly on his disability, and jokes relating to keeping benefits. David described him as a 'comedy genius', whilst Amanda said 'I think you have a huge future'.
In the semi-final, he made jokes concerning Strictly Come Dancing, Kim Jong-Un, and the BGT contracts. David stated that he could be the 'next Peter Kay', whilat Amanda said that she 'couldn't be prouder' of him. He progressed to the final, finishing first in his Semi-Final.
In the Final, he immediately stated 'for my first joke, I was going to run on and throw eggs - now that's been ruined!', relating to the incident earlier in the show where choir member Natalie Holt threw some eggs at SImon Cowell during Richard and Adam's performance. He then went on to make jokes regarding The Voice, the economic state of Greece, the horsemeat scandal and comedians using advertising. David said 'you are going to go on to be a comedy superstar', whilst Amanda said 'every single thing made me laugh'. He finished second in the public vote, behild shadow-puppet group Attraction.
After BGT
Edit
In 2014, Carroll became a character in the comedy show Trollied, in the role of Harry. He has also appeared in shows such as Doctors and the 4 O'Clock club, and regularly features in stand-up shows such as Live at the Apollo.