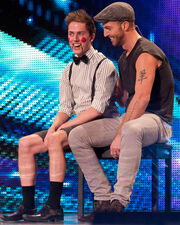 James Ingham and Ed Gleave were a ventriloquism & comedy double-act who auditioned for Series 6 of Britain's Got Talent. They did not progress to the live shows as they did not apply for the competition in the correct manner.
The were actually a pretend act. They're both writers for a newspaper doing a piece on the show, but the act was too good. Production staff later said that if they had done a proper audition, it would have been a tough call.
The reactions of the judges ("That was not supposed to happen!") occurred because everyone knew it was not a real audition, but it was just too good.
After BGT
Ed went on Ninja Warrior UK where he fell on the first obstacle.