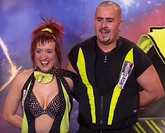 Jennesis were a magic act who auditioned for Series 1 of Britain's Got Talent, consisting of couple Wayne and Jenny. Before the audition, Jenny stated that she had been 'doing illusions for nine years now altogether, and four years with Wayne'. She also revealed that Wayne had been a mechanic before he met Jenny, and that he had to persuade her to involve him in the act.
Wayne entered the stage alone at the start of the audition and introduced the act by himself. He performed to 'Come With Us' by The Chemical Brothers; beginning the act by walking through a hollow container carrying a flaming stick, before sealing the container with glass and covering the front in yellow cloth, at which point Simon and Amanda activated their buzzers. Wayne then removed the cloth to reveal Jenny in the box. The pair then began to dance together for around 10 seconds, before the act concluded with Wayne lifting Jenny off the floor. Simon remarked 'I have no idea how you did it', however going on to add 'I have two negatives; the weird faces you pulled, and the crazy dancing at the end'. Amanda added 'I thought it was like Strictly Come Dancing magic at the end, but the trick was brilliant'. They advanced through to the next round, however did not reach the Semi-Finals.
Britain's Got Talent Pilot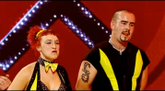 Jenesis was one of the first acts who appeared on the BGT Pilot, 'Paul O' Grady's Got Talent'. It is known that they received 3 buzzers from Piers Morgan, Fern Britton & Simon Cowell. It is presumed they performed the same routine as they did in their Series 1 audition, as Simon commented "The magic act was bad, the dancing was hideous!" They were given a score of 18 by the judges' collectively, coming in 4th on the scoreboard, behind acts Paul Morgan & Hannah and Tassle.