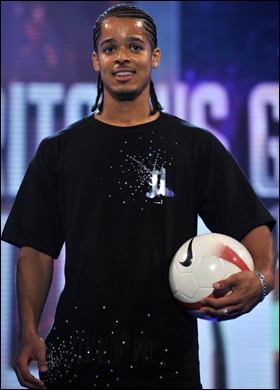 Jeremy Lynch is a footballer who made it to the Semi-Finals of Britain's Got Talent in
Series 2
. Before Britain's Got Talent, he had played for Arsenal. In the audition, he performed to 'Crazy in Love'. He balanced a football on his head and on the back of his neck, before circling it round his neck. He then performed some kick-ups, before balancing the ball on his forehead. He then finished his performance with some kick-ups whilst laid down.
In the semi-finals, he performed to 'A little less conversation'. He began by dacing around the ball, however it began to roll of the stage. he recovered the ball, and began to performe some skilled kick-ups. He then kicked the ball onto his head, and laid down with the ball still on his head. He lost the ball again, ausing Simon Cowell and Piers Morgan to press their buzzers, however the act continued. Jeremy spun round the stage with the ball trapped at his feet, and then finished the performance with some more kick-ups laid down.
He is now a member of the F2 Freestylers.