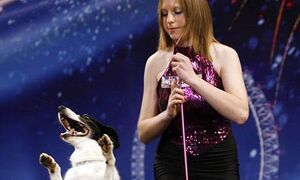 Kate and Gin were a dog act who made it to the finals of Britain's Got Talent in
Series 2
. Kate Nicholals performed with her border collie named Gin. In the audition , she claimed to practice 'canine freestyle'. They performed to Moby's version of the James Bond theme. The act started with Gin walking backwards round Kate's leg. Kate then walked across the stage, and Gin rolled beside her. Gin then stood up and began walking backwards across the stage. Gin then repeatedly walked through Kate's crossed legs, before jumping over a pole. All of the Judges were impressed, and she was sent through.
In the semi-finals, they performed to 'I Don't Feel Like Dancin' by the Scissor Sisters. The act began with Gin walking through Kate's crossed legs, and then jumping over her raised leg. Gin then continued to walk through Kate's legs, before rolling at her feet. After this, Gin scaled Kate's waist, before walking on its hind legs at the side of Kate. After this, Gin again jumped over Kate, before standing back to back with her.
In the final, they again performed to the James Bond theme, and performed the same tricks as in the audition.
In Series 1 the performance was untelevised but their names where seen in the second round and they where known as Kate Nicolas and Gin.