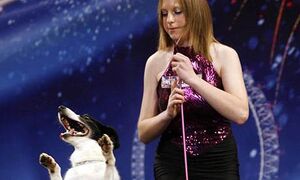 Kate and Gin were a dog act who made it to the second round in Series 1 & the finals of Series 2 of Britain's Got Talent. Kate Nicolas performed with her border collie named Gin.
Series 1

The duo impressed the judges with their performance & proceeded to advance onwards to the second round, however failed to make the semi finals. Their performance was never televised, however they were seen in the second round on a card that the judges used whilst deliberating. In Series 1 the pair were known as Kate Nicholas and Gin.
Series 2
In their audition, Kate claimed to practice 'canine freestyle'. They performed to Moby's version of the James Bond theme. The act started with Gin walking backwards round Kate's leg. Kate then walked across the stage, and Gin rolled beside her. Gin then stood up and began walking backwards across the stage. Gin then repeatedly walked through Kate's crossed legs, before jumping over a pole. All of the Judges were impressed, and she was sent through.
In the semi-finals, they performed to 'I Don't Feel Like Dancin' by the Scissor Sisters. The act began with Gin walking through Kate's crossed legs, and then jumping over her raised leg. Gin then continued to walk through Kate's legs, before rolling at her feet. After this, Gin scaled Kate's waist, before walking on its hind legs at the side of Kate. After this, Gin again jumped over Kate, before standing back to back with her.
In the final, they again performed to the James Bond theme, and performed the same tricks as in the audition.
After BGT
Hoping for a career in film, Kate and Gin signed with an agent. They received many offers to perform at events and entered into talks about appearing on television adverts, including offers from Carlsberg for a "best kennel in the world" advertising campaign. This led to appearances around England and in Wales. These have included public shows and sponsored events. On 6th October 2008, a book about the pair, entitled Kate and Gin, was released by HarperCollins. Television appearances after the book deal included on Alan Carr's Celebrity Ding Dong and Gordon Ramsay: Cookalong Live, alongside BGT judge Amanda Holden.
Kate also gave up her course in animal management to instead focus on a career in pantomime. Both Kate and Gin appeared in a performance of Peter Pan at the Theatre Royal, Windsor and since then Kate has been training a new dog, a Border Collie named Ice. Kate, Gin and Ice appeared on the Trisha show on 26th May 2009. In 2011, after several years of pantomime and other performances, Kate joined the Royal Army Veterinary Corps in the puppy development section, based at the Defence Animal Centre and went on an operational tour as a Military working dog handler in Afghanistan. After which Gin retired from performing to live in the family home, but handed over the reins to Ice.