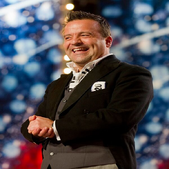 Kev Orkian was an entertainer who competed in Series 4 of Britain's Got Talent, and made the semi finals. He was a variety act, who was a comedian, impersonator, and a singer. He was thirty six years of age. He hailed from Armenia, yet moved to North London.
In his audition he did the 'CD version' of Elton John's 'I'm Still Standing' whilst playing the piano. Piers Morgan commented 'That was one of the smartest things that I've seen in a long time.' He advanced through to the following round with three yesses, and later made the semi finals.
In the semi finals he sang an Armenian love song whilst doing impressions. He was buzzed by both Simon Cowell and Piers Morgan.
Before BGT
Since 1999 Kev has starred in the British tradition of pantomime alongside a plethora of British stars including Leslie Grantham, Julian Clary, husband and wife team Linda Lusardi and Sam Kane, John Inman and Claire Sweeney. In December 2009 he starred as Chester The Jester in Sleeping Beauty alongside singer/actress Claire Sweeney at The Churchill Theatre, located in Bromley. 2010 was the first year for over a decade that he did not perform in panto, deciding to concentrate on private bookings and presenting his own full one-man show. In August 2010 Kev made his debut appearance at the Edinburgh Fringe Festival, taking his full one-man show, 'Kev Orkian - The Illegal Tour', to the Underbelly on Cowgate. 2011 saw Kev perform in the biggest pantomime in the UK alongside comedy legend Dame Edna Everage at the Wimbledon Theatre for FFE productions.
After BGT
He booked an arena tour in South Africa in April performing to 6000 people per night, followed by a tour of the Middle East in late April. Kev headlined the South African Vodacom Funny Festival from 10th June to 7th July; he is the first British comedian to headline five times. In Kev Orkian was featured in the Dead Air Show podcast. David Baddiel's stage version of The Infidel cast Kev as its star in 2014. In 2015 Kev was chosen to play the role of Dudley Moore in the production of Goodbye The After-Life of Cook & Moore. In June & July he performed in Sydney Australia in Bonnie Lythgo's Winter Spectacular Show Aladdin, soon after flying to Afghanistan in order to entertain the troops stationed there. In 2018 he starred as Smee in the Leicester production of Peter Pan alongside singer Sam Bailey.