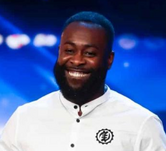 Kojo Anim is a comedian who made the final in Series 13 of Britain's Got Talent. He originated from Ghana, however moved to London. When he entered the stage, Alesha greeted him, with Kojo explaining 'I've known Alesha for many years'. He also revealed that he used to act as support for young comedians, and an opening act for other comedians, however he 'wanted something for himself'.
In his audition, he made jokes about his African parents, as well as having a lack of money and going to the bank, incorporating a piece referring to the metres in black cabs. He also had a piece about his father and Ribena so he had to stop playing with his friend, he also met a homeless person asking if he could give him 20p for something to eat, his response was 'You know where to eat for 20p, I'm coming with you, I bought dinner for the both of us!' Alesha remarked 'my respect level has just gone way up there, my friend', with Simon adding 'I don't really like comedians on this show, but I loved you', pressing his Golden Buzzer. After his audition on 15th April 2019 he appeared upon an episode of ITV Daytime show 'Lorraine'.
His semi final performance saw a majority judges vote send him to the final after the act saw him speak about wanting to go to a party, and his dad finally delivering, he also came home late. He also joked about practicing his sick voice in the bathroom for so long that he forgot what his excuse was, he later changed his excuse to an ankle injury, as to which most probably confused his boss as he sounded unwell yet he had stated that he had an ankle injury. He also wanted his son when he went to school to have fun games like kiss chase like he had when he was in school, 'pretty girls like Amanda and Alesha they had pace! Then there were girls like David and Simon who would always fall over by accident!'
Upon reaching the final Kojo came fourth. He joked about organising transport back from an airport and his friend not delivering, fortunately a mutual friend was there to help. He joked about messy houses and finally about his church most notably 'I asked my pastor if he could change a £10 note, he said God will change your life!'
Before BGT
In 2009 Anim played himself upon TV Documentary 'Most Annoying People 2009'. In 2012 he appeared in an episode of 'Free Speech', the TV Movie 'Kojo: Live & Kicking' which he himself wrote & produced, and played Ujay Utaka in 'The Knot'. In 2013 he played Mr. Adebambi in 'It's a Lot'.
In 2014 he was the Runner-Up on 'What's Up TV', appeared upon 'KSI Demolished', played Maximus FM DJ in TV Series 'Youngsters', played Jermaine in Wasteman Diaries which was a short that he himself both wrote & produced, and wrote TV Movie 'West End Girls'. In 2015 he appeared upon 'Looking for Love'. In 2016 he produced 'The Weekend Movie' alongside Sheridan De Myers.
After BGT
He also has shirts such as Taxi take me to £5.00 a joke from his audition. He may have many more pieces of merch like that, although nobody has seen any of the rest yet. In February 2020 he began his 'The Taxi Tour' at The Beck Theatre. In 2019 he also played a character named Ghost in 'Are We Dead Yet'.
In Late October 2020 Anim appeared on Jimmy Akingbola's panel show 'Sorry, I Didn't Know' which explored Black British History as part of Black History Month on ITV. On Monday 8th February 2021 he began appearing upon Series 3 of ITV2's 'The Stand Up Sketch Show'. He is set to star in a film entitled Absent which is in pre-production.[1] In Mid October 2021 Anim made his second appearance on Jimmy Akingbola's panel show 'Sorry, I Didn't Know' which once again explored Black British History as part of Black History Month on ITV.