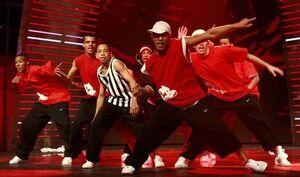 Kombat Breakers are a dance group from Coventry who reached the final of
Series 1
of Britain's Got Talent, aged between 13 and 25 at the time of audition.
Before their audition, they stated that their dream was to make dancing their 'career for life', and that they were going to 'show the world that Britain's Got Talent'. In their audition, they performed to 'It's Like That' by Run DMC vs. Jason Nevins, performing in baseball outfits. Simon remarked 'I absolutely loved what I saw', whilst Piers described it as 'tub-thumping, crowd-pleasing, great fun'.
In their Semi-Final performance, they performed to 'Rock This Party' by Bob Sinclair, wearing grey shirts and white caps. Amanda remarked 'you've still got it, and the main thing is that you're great role models for people in this country', with Simon adding 'if we want to represent young guys from this country at the Royal Variety, you get my vote'.
In the Final, the group performed a very similar routine to their audition, performing again to 'It's Like That'. Piers remarked 'You remind me of Lewis Hamilton - you're fast, you're explosive, you're British, and you've got talent', with Amanda adding 'you have just thrown this competition wide open'.
After BGT
Edit
In 2010, Leeroy Bailey, Kombat Breakers' choreographer and a member of the group, reached the final of talent show Move Like Michael Jackson, and was a choreographer for group Titanz Crew on Alesha Dixon's Street Dance All Stars in 2012.
In 2016, Bailey was charged with wilfully neglecting a child under the age of 16. In 2017, he was charged with recording indecent images of children, and was charged with a three-year community order, with a warning he could face jail.