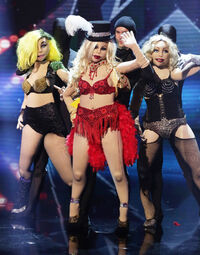 Kony Puppets is a Polish puppeteer act who made it to the Semi-Finals of Britain's Got Talent in Series 8.
In their audition, they performed 'Crazy in Love' and 'Single Ladies (Put A Ring On It)' both by Beyonce, with puppets of Beyonce and backing dancers.
In the Semi-Finals, they performed to numerous songs with puppets of Madonna, Britney Spears and Lady Gaga, however they were 'buzzed off', therefore becoming the first act to be get four buzzers in the live shows since Antonio Popeye in Series 5. Additionally they placed last in the Semi-Finals Public vote, therefore being sent home.
Before BGT
In 2009, 5 years before appearing in Britain's Got Talent, Kony Puppets appeared on Poland's Got Talent in it's second season, where they were finalists.