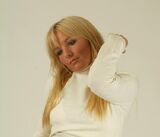 Lorna Bliss was a Britney Spears Impersonator who auditioned for Series 5 of Britain's Got Talent. She was eliminated in the audition round, however she was later brought back by David Hasselhoff to the semifinals, wherein she was eliminated again.
Before her audition, she stated that she had 'basically dedicated [her] whole being to being Britney', explaining that she changed her weight accordingly, and also shaved her head when Britney did so. In her audition, she performed to 'Toxic', wearing the same revealing outfit Britney did in parts of the music video for the single. Very soon after she started performing, the audience began to boo her off stage. She then descended to the Judges' panel and began to perform around them, after which all three Judges buzzed. David remarked 'I thought it was a great job, I thought it was very entertaining, but it's a no', with Michael adding 'I think you're a brilliant impersonator, but in regards to progressing in this competition, it's a no'.
During the Semi-Finals, it was revealed that Lorna had been given a semi-final place, with Amanda stating the reason; 'During deliberation, we realised that something was missing from the show, and [David] finally found his contact lenses and realised it was Lorna'.
In her semi-final performance, she performed to 'I'm a Slave 4 U', beginning the performance in a cage with a snake around her neck. She then switched to 'Oops, I Did It Again', during which Michael, Simon and David buzzed the act. David remarked 'I didn't recognise you with your clothes on', with Amanda adding 'to be a true Britney impersonator, you have to work on your dance'. She did not progress through to the Final.
After BGT
Lorna Bliss Auditioned for The X Factor in 2012, however she failed to progress past the auditions.