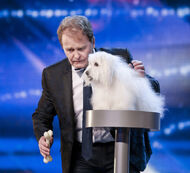 Marc Metral was a French ventriloquist who took part in Series 9 of Britain's Got Talent.
In his audition, he brought his dog, Miss Wendy. He began by talking to his dog, asking if she could speak English. The dog then opened its mouth and seemed to reply, stunning the audience. Marc then continued his comedy 'conversation' with the dog, before beginning to play a song. The dog began to 'sing', before the song turned into a comedy sketch of Wendy trying to get away from Marc. Both Simon Cowell and Amanda Holden allegedly believed that the dog was singing, and the pair advanced through to the next round.
Community content is available under
CC-BY-SA
unless otherwise noted.