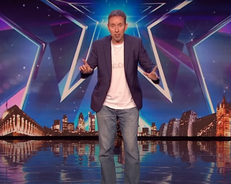 Mark Shortland is a comedic magician who auditioned for both Series 10 & Series 14 of Britain's Got Talent. He was aged 51 at the time of his second audition. He has two passions in life which are Magic and Art.

In his audition he had Ant & Dec join him upon the stage in order to perform magic, which impressed the judges, and saw him advance onto the following round, however he failed to make the Semi-Finals. His performance was never televised however he was seen upon a card that the judges used in the second round whilst deliberating.
Shortland's second audition was televised. In his second audition he had each judge choose a lanyard with a number upon it off of a stage hand. Simon took Number 1, Amanda took Number 4, Alesha took Number 2, and David was therefore left without a choice and just given Number 3. Mark then showed the judges four colours of paper and allowed each judge to choose a colour. Once again he started with Simon who chose Green, Amanda who chose Yellow (before changing her mind to blue which resulted in Amanda and David switching seats), Alesha chose Red before then being asked to change seats with Simon. David then had to take Yellow as it were the only colour remaining which resulted in him changing seats with Alesha. Mark then revealed that a message was written on the back of a piece of paper on the back of each chair. Alesha read hers first which read that she would be sat in Simon's chair (which she was), David then read his which read that he would be sat in Alesha's chair, Simon then read his which stated he'd be sat in Alesha's chair, and Amanda read hers which stated that she would be sat in David's chair. He then revealed a small shape was at the bottom of each message (Alesha's being a star which was also on the bottom of her lanyard), David's shape was a triangle (which was also shown on the back of his lanyard), Simon's shape was a circle (which was also shown on the back of his lanyard), and Amanda's shape was a square (which was also shown on the back of her lanyard). Mark then opened his jacket and revealed that he knew the judges would sit in that order as his T-shirt had their initial in their shape in the order that he had moved them to sit within. He proceeded to advance onwards to the following round, however he failed to make the Semi-Finals, once again.
He is one of only two Untelevised Acts to later audition on More Talent or Unseen, with the other being The Headless Men.
He had previously appeared upon Penn & Teller Fool Us in both Late June 2011, and the 2019 Christmas Special of the show, yet he failed to fool the duo both times. He has also performed at The Magic Castle as to which is located in Hollywood. He has also been a headlining act on cruise lines and performed at The London Palladium. Shortland has eleven awards in magic which include The Fellowship of Christian Magicians Stage Magician of the Year as to which he received in 1997, the 'Tom Harris Cup' IBM Comedy Award which he received four times in 1998,1999,2001, and 2004, The "Ken Dodd Award" Best New Comedy Act, and the IBM British Stage Magician of the Year both in 2001, the IBMBritish Close-up Magician of the Year award in 2002, the European Close-up 3rd place Champion in 2007, the British Magical Comedy Champion and the British Magical Grand Prix Champion as to which he held both of between 2005 and 2007, the Magic Circle Carlton Award Winner which he received in 2014, and the Peter McCahon Award for Comedy which he won in 2015. Atop of this Shortland has been a Member of the Inner Magic Circle since 2005.
Community content is available under
CC-BY-SA
unless otherwise noted.