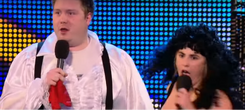 Meat Diva were a cabaret singing and Impressionist duo from Series 7 of Britain's Got Talent, who made the Semi-Finals. The act consisted of thirty one year old Salesman Matt and Twenty Seven year old barmaid Jody.
To begin their audition Matt did impressions of both Meatloaf, and Freddie Mercury. Jody then entered the stage and sang Proud Mary whilst doing a Tina Turner impression, before then doing a Cher impression. Simon Cowell buzzed the audition. The duo later made the following round and progressed further onto the Semi-Finals.
In the Semi-Finals Matt played the piano and sang whilst doing an Elton John impression. Jody then stood atop of the piano and began singing If I Could Turn Back Time by Cher whilst doing an impression of her. The duo then did an impression of Meat Loaf as they sang Bat Out Of Hell. They were later eliminated by the end of Semi-Final 2.