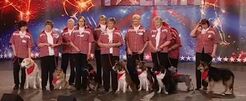 Mel's Klever K9s were a dog act who reached the semi-finals of Series 1 of Britain's Got Talent, consisting of 11 ladies from Lincolnshire and their dogs. Before their audition, they stated that they were going to 'do a line dance with our dogs'. They performed to 'Cotton Eyed Joe' by Rednex, performance involving the dogs running round the legs of the group members, however one dog ran of the stage whilst another refused to move during the performance, causing Piers to press his buzzer. Piers described the act as 'pointless' and said 'no' however Simon and Amanda both said 'yes', Simon remarking 'I think we need a bit of work with the choreography, but there's potential'.
In their Semi-Final performance, they performed to 'Achy Breaky Heart' by Billy Ray Cyrus. The dogs performed a number of tricks around the owners, paying complete attention, however all three Judges buzzed. Piers remarked 'It was a shambles - they were all dancing off wherever they felt like it', with Amanda adding 'half of you looked like you were having a great time, the other half really didn't'. They did not advance through to the Finals.
After BGT
Edit
Mel's Klever K9s have continued as a Dog Training Centre, offering 'Doggie Dancing Displays' as well as a variety of training classes. They also host a number of dog shows each year.