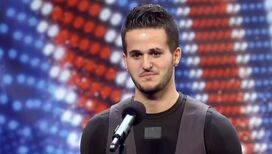 Michael Moral was a French dancer who made it to the semi-finals in Series 5 of Britain's Got Talent, after originally being eliminated.
In his audition, he appeared with his translator, and was sent through after performing his 'robotic' routine.
In the second round, he was put into a knockout round with Razy Gogonea and lost, however he was sent through anyway.
In the semi-final, he danced to a similar routine, entering the stage through a tunnel. He was eliminated by Public Vote in sixth place at his Semi-Finals end.
Trivia
Moral performed in a knock-out round against Razy & later performed in the exact same Semi-Final as Razy.