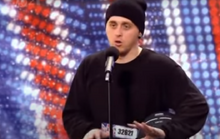 Mikey Fisher was a football freestyler and variety act who auditioned for Series 5 of Britain's Got Talent. He worked as a Football coach.
In his audition he balanced a football on his head before then balancing it on his back. He then did keepy uppies and had the ball go between his arms. He then kicked the football around the stage before then repeating what he had done with a miniature football. Michael commented that he was 'bringing new stuff in' to his freestyling. David stated that Mikey had done a 'fantastic Job.' He advanced through to the following round with three yesses, however did not reach the Semi-Finals.
Before BGT
In 2007 Fisher appeared in documentary film, entitled In the Hands of the Gods, which followed himself, fellow BGT auditionees Jeremy Lynch & Paul Wood, alongside Sami Hall, and Danny Robinson attempting to raise money by showcasing their free styling skills in order to fund a trip to Buenos Aires, in order to meet their idol Diego Maradona.
After BGT
He has performed as an on-screen body double for professional footballers in various adverts. He was also in an episode of The Only Way Is Essex as part of a speed dating storyline. In February 2016 he appeared at JD Sport in order to help launch a new Adidas clothing range.